Friday, November 30th, 2007 at 9:04 am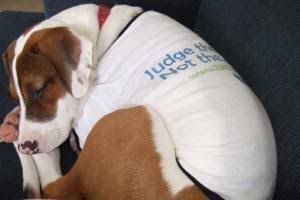 This update has been a long time in coming. To backtrack, June 4 th of this year in Ontario, Canada, an 8 month old dog, Daisy, was seized from her owner, Tammy.
Ontario is a very strict BSL state and Daisy was seized, from her house in front of her owner and shocked and crying children by officials under BSL laws.
There was a number of charges, one being that Daisy was determined to be a "pit bull" and was unaltered as was required by law, and another that she 'attacked' someone.
1) She was scheduled to be altered after her heat cycle was completed under the advise of her vet.
2) She greeted an elderly woman who fell down and was hurt. The woman says she was not attacked, that the puppy was just being a puppy and jumped up. But they say that it was a attack – Dog Owners Liability Act 5.1 (a), no matter if it was a accident or not.
There's much more to this story and you can find all the details HERE.