13 Yr Old Animal Advocate Does Her Part to End Dog Racing in Massachusetts
Monday, November 19th, 2007 at 10:16 am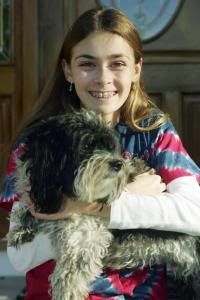 Too often today you hear about the trouble that kids are getting into and the abuses and problems so it's refreshing to hear about one such 'kid' working hard to fight against abuses.
Thirteen year old Amanda MacDonald isn't new to her animal advocacy. At 8 she asked family members to donate money to help preserve rain forests and their exotic creatures rather than give her any Christmas gifts. The following year it was for an elephant sanctuary.
Now Amanda is doing her part to end dog racing in her home state of Massachusetts.
"I really love animals, and I think it's cruel for humans to race them," she said from behind blue-capped braces as she sat at a table in her family's dining room. "I don't think people should make money off animals."
For months, roughly 2,000 volunteers have canvassed cities and towns in an effort to collect 150,000 signatures for a ballot question in November 2008. If passed, the act would eliminate dog racing by 2010.

All signatures must be submitted to the state by Wednesday, according to Christine Dorchak, committee cochairwoman and president of Grey2KUSA, a national antiracing effort. Next summer, the organization will complete a second collection.

Amanda has set her own goal of 400 signatures and is always carrying her clipboard of alphabetically organized John Hancocks. She totes it to tennis practices to wrangle teammates' parents, to the dentist's office to get endorsements of orthodontists, and to school to give her teachers a lesson in civics.

"They all signed," she said of her instructors.

Her mother, Jodi MacDonald, notes that Amanda's diligence has been especially commendable in times when she has knocked on doors for hours and collected only a handful of signatures.

"It's hard work," said the stay-at-home mother, a former engineer. "The process can sometimes seem unfair."

For instance, as outlined by Massachusetts law, every signed sheet must be in pristine condition – no smudges, no cross-outs, no coffee stains, no crinkles. So MacDonald expects that a good portion of the signatures she gathers will eventually be rejected.

Still, she's not dissuaded. "It takes work to fight for something," she said.

There are two dog tracks in operation in Massachusetts: Raynham Park in Raynham and Wonderland Greyhound Park in Revere. Nationally, there are 35, according to Dorchak, nearly one-third of them in Florida.

The committee's efforts stem from a belief that the dogs live dismal lives. Dorchak contends that both Massachusetts tracks house roughly 3,000 dogs that are kept confined for 20 hours a day in 32-inch-wide by 34-inch-high cages. The dogs are also fed raw meat that has been deemed unfit for human consumption, she said.

"These dogs are treated as commodities," said Dorchak. "They're numbers to dog track owners."

But Greyhound Racing Association president Ron Hevener calls such statements cruel and untrue.

In many cases, the most successful people in the racing business started out by adopting greyhounds, he said. He owns several racing dogs, and said he sees them "having fun out there" every time they get on the track.

"I have truthfully never seen the horrible things that they claim, or that they try to make you believe, or that they show pictures of," said the Michigan-based artist and author. "I am extremely disappointed by what happened to the animal rights movement."

Representatives from Wonderland and Raynham did not return several calls and e-mails seeking comment, although the Revere track addresses the topic on its website. In one statement, it says dogs are housed in climate-controlled buildings in pens that resemble "bunk beds," and maintain a daily schedule of exercise, interaction, and a "well-balanced" diet of vitamins, grains, fish, and chicken.

"Anything less than the finest care will make it impossible for the impressive dogs to reach their full potential as competitors," the statement says.

In Amanda's quest for signatures, she often draws inspiration from her own dog, a 2 1/2-year-old Havanese named Lemony. "Ideally I would have, like, 10 dogs," she said. Her parents won't allow more than one, though.

Amanda reached under the table to pet a sniffing Lemony. Of the dogs at the tracks, she said, "I would just feel so bad, thinking of my dog living that life." (Boston.com)
Email This Post
Like this post? Subscribe to my RSS feed and get loads more!