Athen Shelter – Athens, GA Last Chance Dogs – Chow Mixes
Wednesday, September 26th, 2007 at 7:50 am
Got an email from a friend asking if I could do a post on these sweet dog from the Athens Shelter in Athens, GA and seeing their beautiful faces, how could I resist!?
There are three of them, all Chow mixes and just as beautiful as can be, and one is just a 6 week old puppy. If I were not half a country away she would be mine!! 🙂
This is Sarafina. She is just 6 weeks old and a female chow mix. She loves to play and needs someone who can devote a bit of time to her.
Impound date – 9/20. ID# 24778
This is Nala. She is a 4 month old chow shepherd mix that is a little quiet and shy right now and just needs some love to bring her out of herself.
Impound date – 9/20. ID# 24776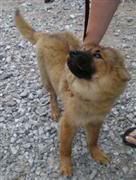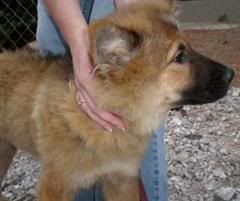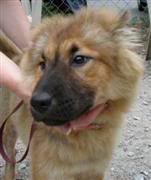 This is Doc. He's a one year old chow golden mix that is quite shy and just wants a home. He is very sweet and a bit scared of the shelter environment.
Impound date 9/20. ID# 24772
Athens can PTS at any time. Any dog that is there for a week should be considered urgent—no matter the age, breed, temperament, or anything else. There are some very caring people at the shelter, but there is just so much they can do.

If you want to save an Athens dog, put your name on it right away! Even if there are already names on a dog, that doesn't mean someone will follow through, and the dog may not be adopted.

With Athens, you have to call the shelter, and check on the dog—the web site is not updated daily, and if you wait for an update, it can be too late. Again, if they tell you there are applications, you need to call back on the day the application expires to find out if the dog is out or not—they will not usually call you, and if you want the dog, you really have to follow through.

They usually can not hold the dog beyond a certain date , so if you want to take a dog out, make sure boarding and transport arrangements are in place ahead of the dogs availability date so you can act quickly. There are some boarding places in the area, and again, many people at the shelter who do care, and will try to help, but they are very limited in what they can do!

Bottom line—don't wait! They don't really do a Last Chance like some of the shelters. You'll need a GA rescue license to pull (although I believe you can adopt), and the license owner has to provide the name of the person who is actually going to get the dog out.
If you go to their website and scroll down the pictures of the dogs, you will see a number of them with the notation 'No Longer Available,' I don't think I need to tell you what that means. Don't let these sweeties get that notation next to their pictures!!
Athens – Clarke County Animal Control
45 Beaverdam Ext.
Athens, Georgia 30605
706 613-3540
Email This Post
Like this post? Subscribe to my RSS feed and get loads more!