Celebrate "Be Kind to Animals Week" with Some of America's Kindest Kids!
Wednesday, May 7th, 2008 at 7:47 am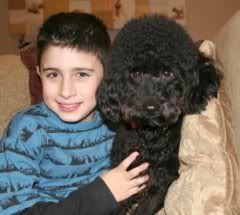 This week, May 4-10, is "Be Kind to Animals" week and American Humane celebrates by announcing the winners of their Be Kind to Animals™ Kid Contest. With so many horror stories of kids and animals, you really have to appreciate these wonderful kids, devoting their time and love to pets and animals and it's really something well worth celebrating!
American Humane enthusiastically congratulates the following six children and teens for their work in helping animals.

Our Grand Prize Winners are Ian Cahr, 8, of Chicago, and Kristen Uyeoka, 17, of Aiea, Hawaii. Ian raises funds for animal rescue organization New Leash on Life by leading a team of children in making and selling crafts. Kristen developed a set of lesson plans to teach preschoolers the importance of treating animals humanely.

Our Runner-Up Prize Winners are Mary Lace, 12, of Wayne, Ill., Cady Arruda, 10, of Westport, Mass., Nick Beaven, 17, of Dearborn Heights, Mich., and Heidi Johnson, 17, of Bellingham, Wash. Mary brings joy to both shelter animals and senior citizens by bringing the animals to visit the seniors. Cady makes clay animal pins and sells them, donating the proceeds to local animal shelters and horse rescue organizations. Nick and Heidi are tireless and trusted volunteers, Nick at a local animal shelter, and Heidi at a local avian sanctuary.
Read more about these wonderful children and teens HERE. It will put a smile on you face and bring some happiness into your day. These are prime examples that we can focus on for the future of our society!! I applaud you all and thank you for your efforts!!
Email This Post
Like this post? Subscribe to my RSS feed and get loads more!