Deaf & Blind Dog Blossoms with TLC
Wednesday, December 26th, 2007 at 11:25 am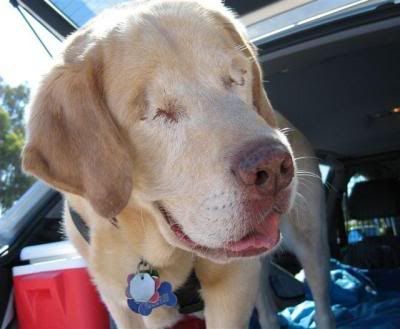 So many people think that pets are disposable and disabled pets, doubly so. Here's a story that will lift your spirits and warm the coldest heart.
Barney is a 8 year old Golden lab mix. He's also blind and deaf.
This holiday season Barney basked in the love of his family and furry friends but that wasn't always the case. Just a couple of holidays ago Barney was in a shelter with little hope of every being rescued or adopted.
In come Amy Shever and Dan Vold, volunteers for an animal welfare organization. Amy is founder and director of the all-volunteer 2nd Chance 4 Pets in Los Gatos, a non-profit group that works to reduce the number of pets that are euthanized after their owners die because no one will take them. They are used to getting last minute, desperate calls and emails about animals that are on their last days and this is what brought them and Barney together.
It didn't take any time at all for Barney to become a part of the family. "We were all in love," Amy said. "[He] isn't afraid of anything, always has a smile on his face and uses his heart to see the world around him. His biggest pleasures include long walks, nightly wrestling matches with humans, playing hide-and-seek with dog buddies and extra kibble whenever he can get it.
"You see this dog, and you're just happy."
Yeah, you can pretty easily see that from the picture. If that's not a happy smiling dog, I don't know what is! 🙂
But Barney wasn't always the picture of happiness and contentment that he is now.
Barney wasn't quite so happy when the Shevers got him. He hadn't had veterinary care in quite a while and could barely walk because his toenails were so long. He was completely blind in one eye and had 99 percent blindness in the other because of a cataract.

When a surgeon removed the cataract, Barney had partial sight out of that eye for about two weeks. And what a time he had.

"It was pretty obvious he had never been inside a house," Amy said. "He was fascinated by water coming out of the shower, the toilet paper roll was a new chew toy for him and when we'd open the refrigerator, he'd look inside like, 'Wow!' " Barney apparently had been kept in a garage before coming to live with the Shevers.

After those two weeks of getting a partial view of the world around him, his retina detached, making him totally blind in both eyes. Rather than have prosthetic eyes put in, it was decided that it would be healthier to remove both of Barney's eyes and sew the lids shut.

"The surgery allowed him to be completely pain-free," Amy said.

"You would think he is a puppy. He's a bundle of energy and requires a lot of activity. We don't mind – he's such a loving, funny, wonderful dog."

The couple used touch to train Barney. If they tap his rear, he'll sit. If they stroke his front paws, he will lie down, although "it helps to have some food" while they are doing this. When they go for walks, if there is a step up, Amy will lift up lightly on Barney's leash and he steps up just fine.

Amy and Dan also joined a discussion group on Yahoo of owners of blind and deaf dogs, a move that proved invaluable as Barney and the Shevers learned the best way to do things. They learned to spray a scent on Barney's tennis balls, for instance, so he can find them.

Every once in awhile, Barney can hear a high-pitched sound but he doesn't know where it's coming from and gets a little restless because he can't tell.

Barney's playmates

Every week, Barney has "step-siblings" come over to play with him, including Jake, a German shepherd who also was a rescue after part of one ear was bitten off. Amy said Jake "doesn't really get the blind-deaf thing" but he has figured out how to get Barney to play with him.

"Jake takes these big stuffed animals and follows Barney around and then kind of stuffs them in Barney's face. They'll play tug-of-war and wrestle," Amy said.

Barney may be blind and deaf but "he goes through life going where he wants to go," Amy said. I can't wait to meet him.

For more information on 2nd Chance 4 Animals, visit www.2ndchance4pets.org. (San Jose Mercury News)
Now if you haven't got a smile on your face and a warm glow in your heart about this sweet boy, don't know what you're thinking!! 🙂 Just looking at that picture makes me grin!
Email This Post
Like this post? Subscribe to my RSS feed and get loads more!