Dog Broken, Crippled, Abandoned, No Home….. No Hope? Please Help!
Tuesday, February 5th, 2008 at 10:13 am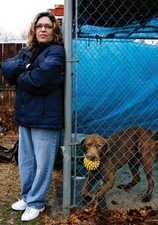 Please See Update at Bottom!
Abandoned by whoever owned him then abandoned again by the red tape of society, the poor crippled chocolate lab has no home and no one who can take care of him. Two broken front legs, snapped like toothpicks, possibly from being hit by a car, he still hobbles and begs for love and attention despite his pain.
Sonia Ayala of Pasco, WA first saw the abandoned, crippled dog last year in a field north of Country Mercantile on Highway 395, his only companion a grungy yellow ball that his is seldom ever without. She contacted Tri-County Animal Control who refused to do anything because it was out of their limits…. red tape….. and more red tape. Even the Sheriff's office refused to do anything.
Amazed, she saw him again around the holidays when visiting friends. "I was shocked when I got there and the dog come up to us with the ball," she said.
Again more calls and no one would do anything to help this poor dog. Finally a couple of weeks ago she convinced her husband to rescue the dog. "I was so glad because it was terribly frozen, he had no shelter," she said.
Sonia is convinced that 'Chocolate' was once a pet because his teeth are in good shape and he's very friendly despite what he's been through.
Now the problem; Sonia is unemployed and cannot afford to take Chocolate to a vet which he desperately needs. Benton-Franklin Humane Society refuses to take him because he's considered a stay and they only take owner surrenders.
Now in a roomy pen in her back yard, he lies on his belly to keep weight off his legs, which are snapped like toothpicks. But if he sees you, he scoops up his ball, props himself up on his broken limbs and staggers over.

Despite the trauma, his affection for people prevails and he fights through the pain to get up close. He doesn't bark, and he eats like he hasn't eaten before, Ayala said.
Ayala hopes there is someone out there who will help this poor dog who has so much love to give but so desperately needs some help. "He has survived the worst of things, even the weather out there," she said. "He's got such a will to live. … Maybe someone else who lost a chocolate Lab would want to take him on."
She can be contacted at 509-547-2687. Please don't let her please goes unanswered! Doesn't this dog deserve a chance, don't abandon him yet again!!
UPDATE – 2/5/08
While the dog's fate is still to be determined, a story in today's Herald about the crippled dog Sonia Ayala picked up has generated numerous calls to Ayala and the Herald from people wanting to help.

Some have offered money to cover the veterinarian costs to get Chocolate's broken front legs fixed. Others have offered to adopt the dog.

Ayala took so many calls that her phone is no longer working, she said. A call to the number that was published in the report will get a busy signal.

Tuesday morning, she loaded Chocolate up and took him to a Richland clinic, where one of the vet's clients agreed to pay to have the dog sedated and X-rayed.
Source – Tri-City Herald
Email This Post
Like this post? Subscribe to my RSS feed and get loads more!