Dying Puppy an Inspiration to Continue
Sunday, August 26th, 2007 at 1:07 pm
When I first started this site months ago, I had no hard or clear plan of exactly what I wanted to do or where I wanted to go with it. I did have as my inspiration, a deep and abiding love for 'man's best friend.' Growing up there have mostly always been dogs in my life, pure bred or mixed-breed, it didn't matter, I loved them all and always felt a special bond with them.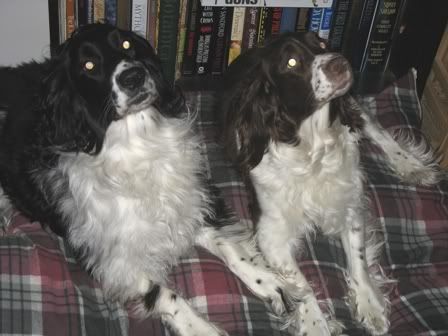 Now I have my Jezzie and Bruti, two beautiful and loving English Springer Spaniels. In most ways they are very indicative of their breed, especially in the fact that they are 'velcro' dogs, especially my Jezzie-girl. They're my babies and they count on me every day to take care of them and to love them.
I guess I wanted to share my love for my babies and to be able to pass along some great information that would be helpful to dog owners everywhere. It didn't take long though for me to see that there was a need to create awareness for the plight of dogs in need; abused and neglected dogs and dogs in untenable situations such as puppy mills and dogfighting rings. Dogs that sit languishing in shelters because of lazy or uncaring or ignorant or stupid owners. So many… so, so many…..
Every day now I go through hundreds and hundreds of articles and sites and read some of the most horrific stories and see pictures that portray some of the worst that man can do to 'man's best friend.' It tears my heart out every day, the atrocities that are committed and these poor animals have no voice to cry out. Only the voices that people like me give them. There are days when I get up and swear that I can't go through another day of doing this, my heart can't take it, I've spilled too many tears but then I'll come across a story that must be told and I have no choice.
I came across an article today that hit home with me because I could understand exactly how this man felt.
Michael Arms is currently the President and executive director of the Helen Woodward Animal Center in Rancho Santa Fe, Calif. and in the past he has been an independent consultant to animal-welfare agencies, Director of North Shore Animal League in Port Washington, N.Y. and District manager of the ASPCA in New York City. This is a man who through his work, has seen and dealt with the worst of the worst, day after day, face-to-face.
Recently at a Hanover Humane Society benefit he told animal welfare supporters how, years ago, he almost left the animal welfare profession when he was the regional director of the ASPCA in New York City. He spoke of how the cruelty had gotten to him, of the sleepless nights and weight loss and how he was ready to pursue the career which he has studied for, accounting.
During his last week at the ASPCA he got a call about a dog that had been hit by a vehicle and was seriously injured. A call that, since he was the only one in the office, he had to respond to.
The black and tan pup – "He looked like Benji," Arms said – shivered in pain in the gutter. Its back was broken.

As Arms approached the dying puppy, two men standing nearby wanted to know: "What do you think you're doing?"

Arms said he was with the ASPCA and was taking the injured puppy.

"No, you're not," they said.

"Why, is it your dog?" Arms asked.

"No, but we have a bet on how long it's going to take before it dies."

"You guys are really sick," Arms replied, and bent down for the pup.

The two men, joined by at least one other, attacked Arms from behind, stabbing and beating him. Arms was left to die with the puppy.

But the puppy crawled to Arms and began licking his face. Arms came back from the brink of unconsciousness and locked eyes with the puppy. Then the puppy's soft brown eyes closed, and it died.

Arms vowed from that moment that he would dedicate himself to saving orphaned animals. "That day gave me a purpose," he said
All I could do was cry because I could understand. I don't face the atrocities he does, face-to-face, day after day, but I still see the horrors and it still hurts. And I know anyone out there on the 'front lines;' those who dedicate their time and efforts to shelters and rescues and to dealing with animal welfare, day after day, they can understand too.
There are days where you just feel like you just can't go on, like you can't take it one more day but then maybe you'll look in the eyes of a dog that you saved from a terrible situation, or come across a story that must be told or hear a heartfelt 'thank you' from someone whose eyes you have opened and it makes it all worth it.
So this is my 'thank you' and my tribute to you! Whenever you think that nothing you do really makes a difference, think about one, just one, poor animal that you saved or helped and know that it's worth it. Look into a dog's soft eyes, cuddle it's warm body next to you, feels its heart beat, feel its life, feel its love and feel just how important you are to him.
You have your 'purpose' and I have mine and I will continue to care and to do my part even if it is only writing their stories and showing their pictures and making people see and feel…. hurt and anger at the atrocities and joy and happiness at each life that is saved or helped.
Email This Post
Like this post? Subscribe to my RSS feed and get loads more!