Humane Society Dog-A-Thon 2007
Sunday, June 24th, 2007 at 9:19 pm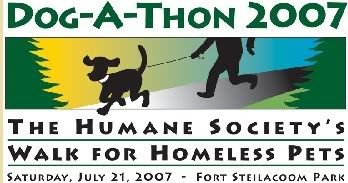 The Humane Society of Tacoma and Pierce County is Sponsering the Dog-A-Thon 2007 on July, 21, 2007.
The Humane Society for Tacoma/Pierce County is the largest animal shelter in the state, finding loving homes for more than 6,000 animals every year. The Society offers many humane programs to improve the lives of people and animals, including low-cost spay/neuter, emergency food bank, education programs and pet behavior assistance.
Dog-A-Thon 2007 is presented in memory of Debbie Kyler, a compassionate advocate for animals and loyal Dog-A-Thon supporter and participant.
If you would like to help out and make a donation to this wonderful event, a special friend and her own sweet rescued pup are making the walk. Every dollar counts!
Meet Riley, he and his mom Wendy are going to be walking to help support the Humane Society.
You can make donations to the Dog-A-Thon here!
Email This Post
Like this post? Subscribe to my RSS feed and get loads more!