Let Your Dog Stut its Stuff
Thursday, October 23rd, 2008 at 4:57 am
At the Mosby Foundation's Pet-Dog Fest 2008!
Pet Dog-Fest 2008 is on Saturday, Nov. 1 from 10 a.m. to 4 p.m. at the Rockingham County Fairgrounds, 4808 Valley Pike, Harrisonburg, VA. Admission is free, though some events (including the costume contest) have entrance fees. There will be food, vendors, music and dog demonstrations. Well-behaved, leashed dogs (no retractable leashes), who are up to date on vaccinations, are welcome. For more information, call (540) 939-4035 or visit www.themosbyfoundation.org.
There are many special and wonderful organizations and foundations out there that help, save and rescue but even among them, The Mosby Foundation is special. Read a little bit of background; The Mosby Foundation – A Tribute to a Special Dog. Even if you can't make their wonderful even, take the time to visit them – The Mosby Foundation, and read some of their wonderful and touching stories.
The Mosby Foundation, a nonprofit, all-volunteer organization that raises money to help dog owners pay for non-routine veterinary surgery that they can't otherwise afford.
"There's just so much need out in the world," said Adams, who founded the organization in 2004 in memory of her dog Mosby. "I like to help. But this is not about paying vet bills, it's about helping to save, or improve, a dog's life."
And help she has. The organization, run out of volunteers' homes, has saved hundreds of dogs, some of whom will show up, tails wagging, to participate in dozens of dog-centric events at the foundation's fundraiser Pet Dog-Fest on Nov. 1.
Pet Dog-Fest will feature dozens of activities for dogs and their owners, including dog walks, inexpensive nail clipping and two blessings of the animals. Proud owners can strut their mutts in a rescue dog parade, learn to shake it with them in a freestyle dance workshop or, for the fashion-savvy group, enter them in the dog costume contest.
"That's probably our biggest draw," Adams said. "It's just a stitch. Some are bought costumes, some are made costumes, some wear glasses, hats, the whole thing … I'm stopping what I'm doing and watching this year because I didn't get to see enough of it last year. That should be an immense amount of fun."
Eagerly anticipating the costume contest are Linda Craun and her dog, Lexie Love, a fluffy, white American Eskimo with an extensive wardrobe.
"She has a little pink dress with lace on it," said Craun of Lexie's outfit this year. "What really tops it off, though, she has a little pair of pink sunglasses and a little straw hat."
Though Lexie wears other colors, pink is her signature hue, Craun said.
"It's basically been pink lately," she said.
After the costume contest, dogs can bob for dog bones and enter other competitions to vie for titles like "best tail wagger" and "best kisser."
There's entertainment for their humans, too, including several musical groups, a silent auction and multiple activities for children – face painting, an egg spoon race and doggie bandana-making.
"It's a fun, happy, family event," Adams said.
All proceeds go directly to The Mosby Foundation, a cause close to the hearts of many dogs and owners.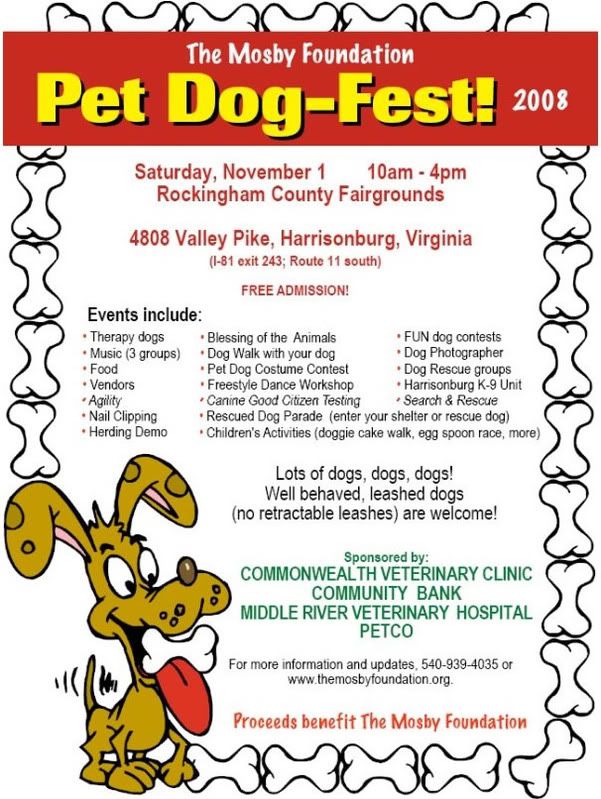 Email This Post
Like this post? Subscribe to my RSS feed and get loads more!