Please Help! Supprt Henry's Law! Make Animal Torture a Felony
Thursday, January 24th, 2008 at 7:43 am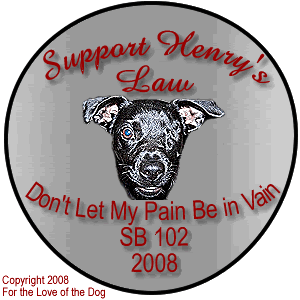 Henry was chased with a leafblower, his left eye irreparably damaged, becoming infected, necessitating removal then 6 weeks later he was placed in a 200 degree oven for five minutes severely burning his chest leaving paws permanently scarred and front toes fused together. For these horrendous crimes, Marc Vincent was charged with intentional animal cruelty, which currently in Utah is a Class A Misdemeanor.
The maximum sentence is only up to one year in jail and up to a $2500.00 fine. Marc Vincent was sentenced to 6 months in jail and a $1,000.00 fine. He was released after serving just 4 ½ months due to 'good behavior'. Now that's a crime in itself!!
Thankfully Henry did survive the horrendous torture, although he will be scared for life, and has now become the poster dog for animal torture in Utah and legislators and citizens are working diligently to get a law passed that carries his name, Henry's Law – SB102, which would make animal torture a felony in Utah.
Utah is one of only 7 states that carries no felony provisions. Three times Henry's Law has went before the Legislature only to fail, the last time due only to time constraints.
Three attempts have been made in recent years to upgrade this law and they failed. We came closer than ever before in 2007 when the bill passed both the House and the Senate but due to a last minute proposed amendment, was defeated by the clock. Due to public outcry, we did get the bill on a Special Legislative Session agenda during which the bill was then tabled for further study.
Senator Gene Davis of Salt Lake City, sponsor of last years bill, has pre-filed Henry's Law and he is working with Senate leaders to ensure that a strong and enforceable piece of legislation passes during the 2008 session. The Utah State Legislature had it's opening session on Tuesday, the 21st. Once again the bill known as Henry's Law has been introduced.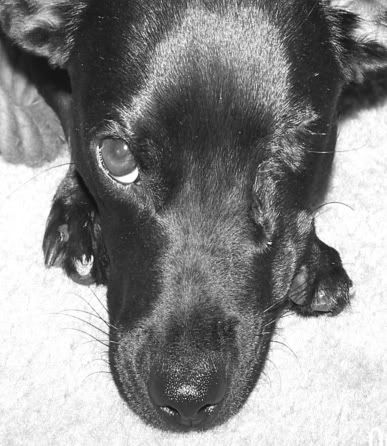 Rhonda Kamper, ex-wife of Marc Vincent, has worked diligently to raise awareness for the necessity of the law as she travels with Henry, telling his story.
She tells that the leafblower and oven incidents were not the only occurrences. Sadly she says she wasn't aware of much of the abuse because she was at work. She'd come home and find bite marks on the little Chihuahua mix's face and believes that Vincent would actually bite the dog's face severely enough to break the skin and leave sores.
He was incredibly jealous of the dog. Just having Henry sit on her lap in the evenings as they watched TV or taking him for a walk caused problems. These problem escalated until the leafblower incident and culminated with Vincent putting Henry in the oven.
In past polls almost 75% of Utah's polled citizenry highly favored the passage of Henry's Law. But like any new legislation, there are powerful opponents as well, "Critics, particularly lawmakers, worry that elevating animal cruelty to a felony could be misapplied to include accepted animal husbandry practices, activities that go on zoos, veterinarians' offices and interactions among hunters and game." But for the 2008 session Representative Kerry Gibson has abandoned the bill, which would take out all references to cruelty in the agricultural code. This should give the bill a major boost and silence opposition from those in the agricultural circles.
You can help make a difference! If you live in Utah, you can contact your legislator which you can find here, and contact them, let them know that you support Henry's Law and want them to do the same. If you do not live in Utah, you can still sign the petition to let Utah's legislators know the eyes of the nation are on them to do the right thing. You can find the petition here.
Beyond that, please help to get the word out! See that little email icon, use it! Send this story to anyone and everyone you know who cares. You can make a difference!!
Email This Post
Like this post? Subscribe to my RSS feed and get loads more!