Racing to Death – The Story of Biko, A Racing Greyhound
Thursday, August 9th, 2007 at 9:11 am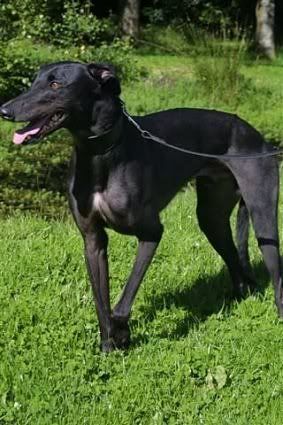 This is Biko, a 2 yr-old racing greyhound and this is his story.
BIKO'S STORY…
The SDGA team is devastated after receiving shocking news recently that dear Biko the beautiful two year old black male ex-racing greyhound who was recently rescued and brought to Devon for safe refuge had to be put to sleep the other day after a tragic accident shattered one of his legs.
Helen Stevens spokesperson for SDGA listened in disbelief as she was told how Biko was being exercised on the leash as normal when he suddenly sighted a squirrel and tried to make chase, as he did so Biko apparently leapt high into the air and as he came back down to the ground his leg was instantly shattered and splintered most of the bones in his foot. Helen was told how the most horrendous noise of Biko's leg shattering was so loud it was as if a gun had gone off.
He was named after the great Steve Biko who was a South African freedom fighter. He has tattoes in both ears which confirms he was registered as a racing dog. He had sustained terrible previous injuries both to his leg and neck. Biko walked with a limp and it was felt that this would have been a permanent problem. The previous vet report states that he had muscle wastage on his neck due to his injury. When rescued he was flea ridden and had a rip in one of his ears.
Helen Stevens says "after being examined by a vet Biko's carers were advised to have him put to sleep as it was most likely that he would never be able to walk again as he was already struggling with a damaged leg that had been severely injured during his racing career. Had he not suffered from his previous racing injury then he may well have survived this accident as even if it had meant that Biko had to have his leg amputated he would have still had three healthy legs to walk on. We are placing full blame on the greyhound racing industry for Biko's death, not only for his previous racing injury but also the methods of training greyhounds to chase small animals so they will run on a track chasing an electric hare in order to win the race. We have heard stories where some greyhound trainers allegedly use small animal like cats and rabbits as live bait to encourage the chase factor. We will make sure Biko's death is not in vain!!
"This tragic news has come only days after we received an update on how Biko was making wonderful progress and beautiful pictures of him looking so happy and relaxed. We at SDGA and everyone involved in Biko's rescue and care are absolutely devastated. We can only take comfort in knowing that since his rescue Biko experienced nearly two weeks of happiness and freedom during his sad and painfully short life.
"Biko has been buried in the garden at the kennels where he resided and we have sent a card and small donation with an Irish blessing so as the manager can plant a rose bush on his grave in memory of his short and tragic life.
"We are urging all readers to refrain from attending or betting on greyhounds as the industry relies heavily on public support and without this greyhound racing will certainly diminish. We should put an end to all this unnecessary suffering of dogs, the industry only exists because a few sad people waste their money on bets while greyhounds suffer and die because they are no longer needed once their racing days are over and often receive fatal injuries on tracks. These animals are considered disposable commodities and we will do all we can to highlight the plight of the greyhound."
*********************************
A song written to speak up for the issue of 'disposable' greyhounds cast aside when the dog racing industry has finished with them.
'Racing to Death'
If I don't win today
I won't be here again
I've seen it happen to my friends
When their running days are done
Will it be over for me soon?
Can I come home with you?
I'm a greyhound on the outside
With a big heart on the inside
I've run so many times
Just a number on the lines
Just another winning streak
Just a gamble, at my peak
But soon I will be lame
I'll be out of this sad game
I'm a dog like any other
When my glory days are over
And I'm racing to death
For the price of a bet
My life is at stake
For the money you make
So spare me a thought
On that ticket you bought
It's signing my life away
I'm just a winner for a day
So here I am I'm lost
I've seen the gun, I heard the shot
I saw my friend old Billy Jack
I saw them drag him on his back
I don't know who is gonna save me
Please don't let them take me
I'm a greyhound on the outside
With a big heart on the inside
And I'm racing to death
For the price of a bet
My life is at stake
For the money you make
So spare me a thought
On that ticket you bought
It's signing my life away
I'm just a winner for a day
© Maria Daines/Paul Killington
All Rights Reserved
(mcps) ASCAP
5.08.07
Reprinted by permission on the hopes to educate others about the horrors of greyhound racing. You can listen to and download the song for free – HERE
Email This Post
Like this post? Subscribe to my RSS feed and get loads more!