The Mosby Foundation – A Tribute to a Special Dog
Saturday, October 6th, 2007 at 10:12 am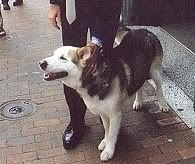 All dogs are special but every now and then, like cream, one will rise to the top in special ways. Mosby was just that kind of dog. Rescued as a puppy by a turn of fate for both him and his rescuer, Carol Adams, he showed himself to be more than just another dog almost from the start. Living in his new home, "a simple rustic cabin that was surrounded by the mountains of Marble Valley in western Virginia," he was loved by one and all, including those members who were notorious for not being so 'dog friendly,' including donkeys, lamb and deer.
Mosby grew into a beautiful 100 lb Malamute Husky mix with a "handsome face accented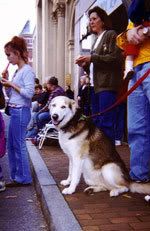 by a constant impish smile and blue/brown soulful eyes" and a fluffy white tail. When he was two, Carol started taking Mosby to work with her to conquer more hearts and build an adoring club of acolytes. He was sweet, gentle and lavished love on everyone he met.
It wasn't long before Carol decided, with his easy going nature, Mosby was a perfect candidate for a therapy dog and to no one's surprise he flew through the training and was easily certified. Now he had more hearts to conquer and conquer he did. Visiting local nursing homes, he worked his magic again and again on the elderly, the lonely and the frail, providing a warm respite from their otherwise mundane existence.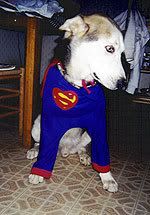 Then in August of 2003, at only six years old, Mosby's life of loving and giving came to a crashing end at the hands of a murderer and a blast of buckshot from fifteen feet away. This beautiful life was done, callously destroyed.
Mosby's killer was found guilty of felony animal abuse and due to the law, fined only $1,500 and received no jail time but out of this senseless tragedy a hope was born. Mosby will never be forgotten. His death garnered support worldwide and Carol received cards and email and letters, among other things, and most unexpectedly were the contributions and donations that poured in as well.
From this end was a beginning, The Mosby Foundation. The purpose of The Foundation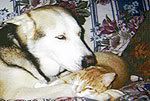 is to raise money by contributions from like-minded souls for the purpose of giving rescued, sick, injured, neglected or abused dogs the second chance in life that Mosby was given. Mosby's second chance life touched so many people in such a positive way.
This story so touched me that I had to share it. Sometimes good does come out of bad and now there are many, many dogs out there that have been healed and homed in the memory of Mosby.
Please visit The Mosby Foundation to find out more and be sure to take the time to read Mosby's Story, my brief synopsis barely touches the surface!
Email This Post
Like this post? Subscribe to my RSS feed and get loads more!