URGENT – Dog Needs To Be Pulled from High Kill Georgia Shelter ASAP
Saturday, September 15th, 2007 at 11:42 pm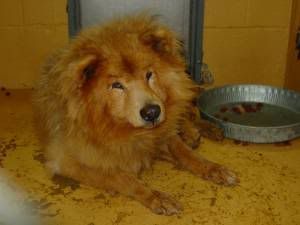 This is the latest!! Great News!!
UPDATE!! See Below!!
I need some help here desperately to get the word out and save this dog!
This is a 16 yr old blind chow mix that was dumped at a high kill GA shelter by his 'family' that decided they no longer wanted him. If he cannot be rescued, he will be killed in a gas chamber on Wednesday, September 19!!
Talk about heart-breaker!! He is at the Spaulding County Animal Control Shelter in Griffin, GA. This shelter only keeps dogs for a couple of days then kills them and they still use a GAS CHAMBER.
This poor old fella must be terrified! Can you imagine how he must feel, after giving 16 years of love and devotion, only to be dumped unceremoniously at a horrible, strange, noisy pound where he must sleep, day and night, on a cold concrete floor, with nobody to love or comfort him? And then to ultimately experience his last moments dying in a gas chamber, never really knowing what had happened to him? It's just too horrible.
Is there anyone out there who might be able to open their heart and home to this beautiful, dignified senior Chow boy? He deserves far better than a gas chamber death.
*** If anyone can help, the phone number to the Spaulding shelter is (770) 467-4772. *** The shelter is open M-F, from 10:00am-4:00pm EST. Please, please hurry, as this sad boy's last day is September 19 (next Wednesday). His I.D. number is B07-0498.
UPDATE – 9/16/07 – I have gotten some incredible response from this and from so many people cross-posting and making calls. There are individuals interesting in helping this sweet boy out as well as rescues and at least one rescue has promised that if he is not adopted by Wednesday, they will pull him themselves! It's looks like this sweet senior is going to have a chance to live out his life in peace and safety, no doubt surrounded by love!
I want to thank everyone who cared enough to take the time and made the efforts to get the word out. Without the love, caring and efforts of everyone involved, this could never have happened!
Just a side note – Now I don't normally address comments that I come across when my posts are reposted to groups and forums but this dog and his sad story touched me which is the reason I posted this and did everything I could to get the word out so this dog could be saved.
One thing I came across was skepticism at the my use of the term 'gas chamber.' This is no journalistic liberty, it's a fact. This is how this specific shelter kills animals. No nice neat needles, they actually do close a large number of dogs in a room and turn on the gas. This is a practice that is not used by a huge number of shelters and the number using this inhumane method is, thankfully, decreasing.
As for the family who released this dog to the shelter, to be honest, they are not my concern, this dog was my concern and priority. To abandon a dog to an end like this is nothing short of cruel, regardless of the owner's circumstances. There are alternatives and a few phone calls or questions could have certainly come up with some. Whoever did this was thoughtless and uncaring. There is no way anyone who loved this dog could have done this! I've seen homeless people take better care of their dogs and make better provisions for them.
And yes, there are many dogs out there every day that are killed and I wish to God that I could do something to save them all and it breaks my heart that I can't, but if I can get the word out and help to save or improve the life of just one dog, that's one life changed which is more then many people do. As I always say, everyone who does shelter and rescue work does their part and helps in the way they can, this is my small contribution to the effort, to get the word out! I may not be able to chance the world, but if I can save just one life, then maybe it's worth it!
Email This Post
Like this post? Subscribe to my RSS feed and get loads more!