You Can Help your Favorite Shelter Win Up To a Million Dollare Makeover!
Wednesday, November 7th, 2007 at 7:54 am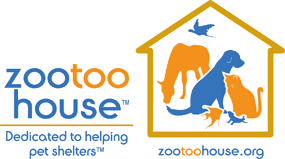 Do you know of a shelter in need to some help or a makeover? Zootoo House, Inc, a new organization dedicated to renovating needy and deserving animal shelters, will award one shelter a renovation valued at up to $1 million-while 19 others will receive prizes of $5,000 to $10,000 to be used for shelter improvements.
What an incredible program!
Seventy percent of Americans don't even know where their local pet shelter is. Zootoo wants to generate national awareness, raise community support and ultimately, funding for pet shelters in America. Any shelter can win, small, medium, or large. But they need your help to win the make-over or the nineteen cash prizes made available to them by our program. It's Free. It's Fun. It's Easy.
Here's their Press Release
ZOOTOO HOUSETM OFFERS LOCAL ANIMAL SHELTERS CHANCE TO WIN MAKEOVER OF UP TO ONE MILLION DOLLARS

–Supporters Can Help Their Shelter by Being Active on Zootoo.com, a New Opinion-sharing Website for Pet Lovers–

Secaucus, NJ, October 15, 2007–Zootoo HouseTM, a newly-created organization dedicated to improving needy and deserving animal shelters across the United States, will celebrate its launch by awarding one shelter a renovation valued at up to one million dollars* – while 19 others will receive cash prizes to be used for shelter improvements. Pet lovers across America will nominate deserving shelters by becoming active members on Zootoo.com, a user-generated website where people share their opinions and experiences about all-things related to pets.

Zootoo House was started by Richard Thompson, the former CEO and Top Cat of The Meow Mix ® Company. While at Meow Mix, Thompson donated hundreds of thousands of pounds of cat food to animal shelters across the country. He visited many of them and was often appalled by what he saw: overcrowded cages, too little nutritious food, and not enough room to run and play. Thompson met hundreds of dedicated pet lovers who work at shelters, or generously volunteer their time, and heard a common refrain: there are too many pets in need of homes and not enough money to care for them properly while they await adoption.

"During my years in the pet food industry, I've seen the dedication and commitment of the people who keep our shelters operating and save the lives of thousands of animals every day," said Thompson. "Yet despite all their hard work, many shelters lack the financial resources and manpower to provide a proper place for animals to live while pursuing the ultimate goal – finding a permanent, loving home for every pet. That's why I started Zootoo House, to take us one step closer to achieving that goal."

How Pet Lovers Can Help Their Local Shelter Win the Makeover:

Shelters will be able to win the makeover by encouraging their supporters to become active members on Zootoo, the only opinion-sharing web site that allows all pet lovers to help each other by sharing their knowledge. When first-time visitors go to Zootoo.com, they will be given the option of selecting a shelter to support. Then, every time they visit Zootoo.com – whether it's to review a product or service, share an opinion, post a photo, or refer a friend – they will automatically earn points for their designated shelter.

The 20 shelters that accumulate the most points between October 1, 2007 and March 31, 2008, will be eligible to win the makeover or runners-up cash prizes. The Zootoo House Advisory Board, which consists of Thompson, Bill Meade from Shelter Planners of America, Wayne Pacelle, president of the Humane Society of the United States, as well as other experts in the pet industry, will personally conduct site visits of all 20 shelters to evaluate their needs and how Zootoo House can best facilitate enhancements. The shelter deemed most deserving will win a makeover valued up to one million dollars*. A second shelter will win a $10,000 cash prize, and the 18 other top shelters will each receive $5,000.

Additional details and a complete list of rules for the shelter makeover program are available at Zootoo.com/makeover (http://www.zootoo.com/makeover).

About Zootoo HouseTM: Zootoo HouseTM is an organization whose mission is to improve the condition of animal shelters, facilitate adoptions, and make the shelter visit a loving, safe, and positive experience for children and adults.

About ZootooTM: Zootoo.com is the first opinion-sharing website where "every click helps a pet"TM and every pet lover has a voice. The primary goal of Zootoo is to allow people to make the most informed decisions for their pets using information provided by real pet lovers like themselves. As a "user-generated platform," every pet parent gets a chance to participate in providing valuable information based on personal experience, thus making it an unbiased and reliable source of information and interaction for the pet community.
So do animals and shelters a favor; pop over to Zootoo and signup and then get the word out to everyone!!
Email This Post
Like this post? Subscribe to my RSS feed and get loads more!