You Have the Right to Remain Silent……
Tuesday, July 8th, 2008 at 7:18 am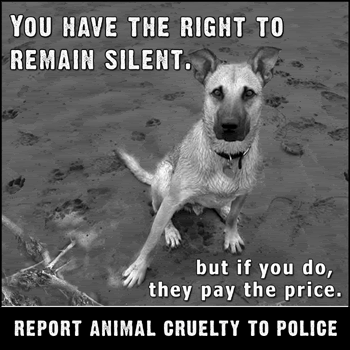 Please be advised that this video contains graphic images of animal cruelty that may be disturbing and heart breaking to watch. If you are easily emotional, please do NOT watch this video. This video is not meant to offend or frighten anyone, only to show the silent victims of this painful cruelty. These beautiful and innocent animals are suffering and struggling to survive. How could this happen? How could such painful cruelty happen to these innocent and defenseless creatures? Please hear their silent cries and prevent this torture from continuing. These animals deserve a better life than this cruel fate. Animals deserve a life without pain or fear. Please help save these animals.
Please Help Stop Animal Cruelty
Report animal cruelty to your local authorities and/or humane rescue organization. If you suspect or witness any type of animal cruelty or neglect, please report it immediately.
In many cases of animal cruelty, there was always at least one person who witnessed what was happening to an innocent animal and did nothing to stop it which resulted in the animal's death.
These animals are suffering and they are crying out for help. Help spread awareness and education throughout your community, friends and family about the horrific facts about animal cruelty and what they can do to help prevent this painful fate from claiming any more innocent lives..
Silence, ignorance and indifference kill innocent lives. Please do not allow this to continue. These animals need our help. Use your voice and help save these animals from this cruelty before it is too late. These animals deserve a happy and healthy life, without pain or fear. Please help save these innocent animals. You may be an animal's only hope of survival..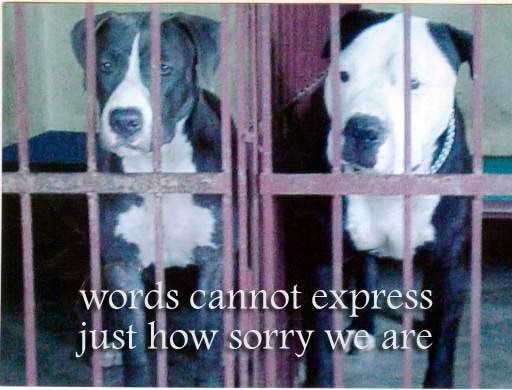 Stop Animal Abuse!!
Email This Post
Like this post? Subscribe to my RSS feed and get loads more!