Rescue Tales – Rainbow Bridge's Newest Angel
Wednesday, September 2nd, 2009 at 11:49 pm
Last week for my first Rescue Tale I shared with you the story of Tuff and the Guardian Angel that brought him to his rescuer, Johnny.  If you remember at the end of the story, Johnny told us that Tuff was old, estimated to be around 13-14 or so and that he was arthritic and getting quite frail.  This week Johnny and I have been in touch and there was no doubt that Tuffy's time was coming and coming quickly.
He took a nose dive last night around suppertime. Now he can't get to his feet at all…only half tries…and his tail doesn't wag. He ate and took water…but half-heartedly. If I stand him up, he weaves and falls over. Almost fell on his face out in the yard. So…I've resigned myself to it. I'll take him for his last car ride later this morning. He hasn't been on one in a while, and he always loved to go along with me.

I think he's ready, and I think he knows what's coming. He seems to be resigned to it…but his eyes are sad. Probably because he can't keep his promise.

Gonna miss that little guy.
This morning Rainbow Bridge welcomed its newest angel, Tuffy made his final journey. Johnny asked me to share this with you because you got to know Tuffy a little bit through his story.
It's done. The 45-mile trip took me an hour and a half. I miss him already.

What's amazing is how many kindred spirits that we find among dog people. Some of us are half a continent apart.
Some are across town, and we rarely meet…but the bond of a dog transcends all manner of differences
Social status…income…age…gender…race…religion…and geography.

And yet we all seem to be sisters and brothers from another mother…because of dogs.

Non-dog people ask me why I do it. I tell'em that if they have to ask the question, they won't understand the answer.

Thank you for your thoughts and concern through this.

Tell his story, Deanna. Tell'em that sometimes a dog with baggage turns out to be the one that they'll remember for as long as they have mind enough to remember their own names. Tell'em that the "incorrigibles" usually only need patience and a gentle hand to bring'em back…and that those are ones that most often turn out to be special…because they know. They know.
I think you all know this already. So many of you are involved in one way or another with animal advocacy, rescue and more. So many of you have been through this with beloved canine companions of your own so you can share in his feelings and have that special sympathy and compassion that only real "dog people" can have.
As a tribute to Tuffy and his rescue Angel, Johnny, I want to share one of my favorite pieces of writing. Many of you may not have read this yet. I hope you appreciate the incredible sentiment!
I Stood By Your Bed Last Nite
I stood by your bed last night, I came to have a peep.
I could see that you were crying, you found it hard to sleep.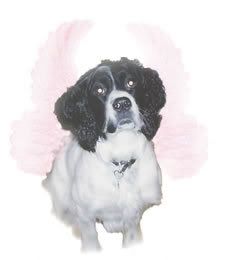 I whined to you softly as you brushed away a tear.
"Its me, I haven't left you, I'm well, I'm fine, I'm here"
I was close to you at breakfast, I watched you pour the tea.
You were thinking of the many times your hands reached down to me.
I was with you at the shops today, your arms were getting sore.
I want to take your parcels, I wished I could do more.
I was with you at my grave today, you tend it with such care.
I want to reassure you that I'm not lying there.
I walked with you towards the house as you fumbled for the key,
I gently put my paw on you, I smiled and said "It's me".
You looked so very tired and then you sank into a chair,
I tried so hard to let you know that I was standing there.
Its possible for me to be so near you everyday,
to say to you with certainty "I never went away".
You sat there very quietly, then smiled, I think you knew
That in the stillness of that evening I was very close to you.
The day is over…. I smile and watch you yawning
and say, " Good Night, Sweet Dreams, God Bless,
I'll see you in the morning".
And when the time is right for you to cross the brief divide
I'll rush to greet you and well stand together side by side.
I have so many things to show you, there's much for you to see.
Be patient, live your journey out; then come home and be with me.
This tribute is for Tuffy and Johnny but also for all of you who have lost a beloved canine companion. If you're like me, you're wiping tears from your eyes, perhaps remembering a furbaby or two who you once shared your life with. Yes, they are still there, waiting and watching and one day, when the time is right, you will be together again. This I believe with my whole heart! God bless you all my friends!!
Email This Post
Like this post? Subscribe to my RSS feed and get loads more!