The Life of My Dog
Friday, January 4th, 2008 at 8:37 am
Have you ever wished you kept a journal of the life of your beloved canine companion life parents do for their children? Someplace to all those wonderful stories and pictures to immortalize them?
Do you have a new puppy that you just adore, who is doing all those cute puppy things that you want to remember or have you lost a precious canine family member and want to create special memorial for them?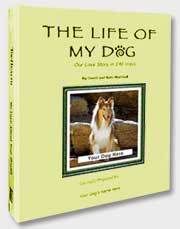 I just came across a wonderful way that you can do this and am so tickled about it that I know I'll be doing this for my sweet babies. It's called The Life of My Dog, a journal that you fill in with anything that you can think of to save and preserve all those wonderful, special and even everyday events of your dog's life. It's completely editable and prompts you along the way to help you remember those moments you want to remember.
Take a moment to check it out, I'm sure you'll find it as special and wonderful as I did! The Life of My Dog!
Email This Post
Like this post? Subscribe to my RSS feed and get loads more!