E-Mail 'Dogs Born Mean?' To A Friend
Email a copy of 'Dogs Born Mean?' to a friend
Loading ...
My Mission
Deanna Raeke
Dog Lover & Proud Pet Parent


Passionate when it comes to my canine companions as well as dogs everywhere, it's my mission to raise awareness of any issues that affect them, from their health, food and nutrition and training to their welfare. Canine advocacy is something that everyone who cares about dogs needs to be aware of and we all need to share that and raise our voice for those who cannot speak for themselves.


For the Love of the Dog is my small effort to do that. Please, won't you help me!
Subscribe & Get FREE Gift
And Get a FREE Gift
"A Dog's Philosophy on Life"
Calendar
January 2018
S
M
T
W
T
F
S
« Apr
1
2
3
4
5
6
7
8
9
10
11
12
13
14
15
16
17
18
19
20
21
22
23
24
25
26
27
28
29
30
31
Please Help Support FTLTD!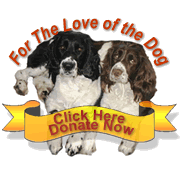 For the Love of the Dog
is a free site that provides news, information, tips and help for you and canine companion everyday. Donations are kindly welcomed to keep us up and running! As a token of my appreciation please accept a gift for your donation -
"Responsible Dog Ownership - Essential Tips for Every Dog Lover"
Search
Pages
Have You Clicked Today?
Copyright
All articles on this site, unless otherwise attributed, are copyrighted to and property of Deanna Raeke. You are welcome to use my articles (excerpts) but please be so kind as to link to my site as per terms under the Creative Commons License. Thank you!
For the Love of the Dog
by
Deanna Raeke
is licensed under a
Creative Commons Attribution-Share Alike 3.0 United States License
.
Permissions beyond the scope of this license may be available at
My Contact Page
.