For Those Who Doubt Dogs' Title as "Man's Best Friend"
Monday, March 3rd, 2008 at 10:07 am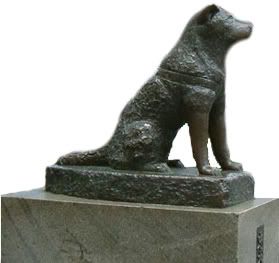 This is an old story but as touching and timely today as when it happened. Get your tissues out because it's a real tear-jerker, trust me, I know!
It's the story of Hachiko and Eisaburo and it took place over 80 years ago in Tokoyo. Just the fact that the story still lives, shows its incredible endurance, the endurance of a beloved dog's love and loyalty to his master.
Hachiko, a yellow-coated Akita was born in 1923 and a few months later he went to live with Eisaburo Uyeno, a Tokoyo professor. The two became fast friends and boon companions. Every morning, Hachi, as the dog became known, would walk his beloved master to Shibuya train station as he went to work where he taught at the Imperial University and every evening Hachi would be there, tail wagging happily to meet him and walk home with him.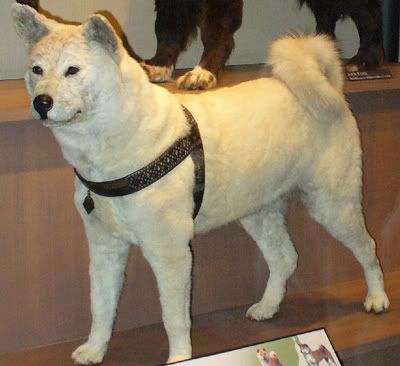 This happy tradition went on until 1925 when one day Professor Eisaburo didn't show up to meet Hachi as he did every evening at the train station. Hachi waited and waited, no beloved master bounded off the train to meet Hachi's tail wagging greeting. You see, on that sad day, Eisaburo had a stroke and died, never to return to the waiting Hachi.
Hachi was given away but turned into an escape artist and returned to his old home. Eventually he realized that his beloved Eisaburo wasn't there so he went to the train station to wait… and wait. Every day the poor dog waited in vain for a master who would never return.
Eventually he drew the attention of other train commuters who were used to seeing him there greeting Eisaboro. They knew that the dog waited in vain and it touched their hearts, they brought food and treats for Hachi.
Hachi's vigil lasted ten years. Years in which the once beautiful and cared for dog's coat became dull and dirty. He came down with mange and heartworm. He fought off strays. But despite all misfortunes, he never gave up his vigil for his long gone master until March 8, 1935. On that day, his body and heart worn out, his laid down on the very spot he had waited every day for a decade for his beloved Eisaboro to come home and died.
Hachi's story was well known by then and his bones were buried next to his beloved master, Eisaburo. Hachi's loyalty was so renowned that in 1934, a statue of him was created by sculptor, Ando Teru, and placed in the train station and his death was mourned by the nation. Hachi's mounted remains are on display at display at the Museum of Nature and Science in Tokyo in his honor.
In 1944 when all metal was melted down during WWII, Hachi's statue was sacrificed but after the war, Tokoyo residents commissioned Ando Takeshi, the original sculptor's son, to recreate the sculpture and to this day it stands as a tribute and memorial to a dog's love and loyalty that never died.
So for those of you who doubt that the title of "Man's Best Friend" is well earned, I think you now can see how appropriate it really is. This is just one story of a dog's loyalty and devotion and more than 80 years later it still stands strong. I'm sure that most people have heard stories or maybe have stories of your own to share but there is no doubt in my mind or heart that dogs really are 'man's best friend!'
Email This Post
Like this post? Subscribe to my RSS feed and get loads more!