Cat Mothers Foster Puppy – VIDEO
Monday, February 2nd, 2009 at 6:50 am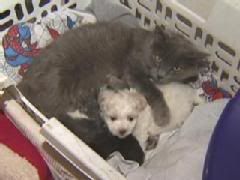 Ok, here's your Monday awwwwwwww.  The Bealey's, a Glendale, AZ, family became the unexpected temporary foster parents of a little puppy when their niece went in the hospital to give birth.  they expected to be kept busy caring for the cute little ball of fur with the usual handful that puppies can be but help caring for Pretty, the puppy, showed up from an unusual source.
The Bealey's cat had recently had a litter of kittens and quickly took this new furball under her paw with her own babies.  The unusual bonding was quite a surprise to the family.
"Cats and dogs just don't get along," Daniel Bealey said.
Now their biggest concern is that their cat is going to get overly attached to Pretty who will soon be going home to her own family.
Awwwwww….. so precious. That is one rambunctious puppy!
Email This Post
Like this post? Subscribe to my RSS feed and get loads more!