The Love and Loyalty of a Dog
Monday, January 12th, 2009 at 8:29 am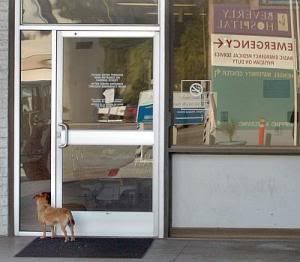 On News Year's Eve an unusual visitor was found waiting outside the emergency entrance of Beverly Hospital in Montebello, CA. The little tan dog apparently followed an ambulance to the hospital and she waited, pacing outside the doors, it's believed, looking for her owner.
"It was so cute how she would look through the doors as people walked in and out," said security officer Rose Benitez.
"She apparently followed behind the ambulance," said Benitez, who works the overnight shift and saw the dog as it circled the ambulance.
Hospital staff dubbed the cute little dog "Beverly" as they continued to find her waiting, day after day, checking out the entrance and parking lot. She really touched their hearts and they took to making sure she was fed. Beverly even slept in the golf cart used by Head security officer Joe Lucero and his staff.
"She even would ride along with us or follow us as we made our rounds of the parking lot," he said.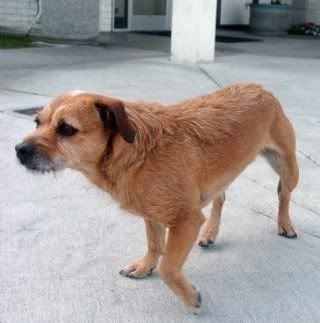 The staff thought they had tracked down the owner when they "matched" up Beverly with the ambulance she followed in. The woman lived only a few blocks away from the hospital which would have made sense. When they contacted the woman's family they did say the dog was hers but later denied it so now the little dog who showed such love and loyalty had no one, except for the hospital staff which had unofficially adopted her.
It didn't take long for one of the staff to decide to give the little dog a permanent and loving home and last week Beverly was officially "adopted."
"This is the first time I've seen something like this," Lucero said. "But I think it made everyone here feel really good about the kind of love the dog showed for her owner."
Now there's no way of knowing if the dog really did belong to the woman patient or not and if she did, why the family would decide to just abandon the loyal little dog to unknown fates but the love and loyalty that Beverly showed is being repaid to her in kind. What a sweet and touching story. I wish all dogs could be so lucky!
Email This Post
Like this post? Subscribe to my RSS feed and get loads more!