Just How Smart Is Your Dog Really? Doggie IQ Test
Wednesday, April 9th, 2008 at 7:06 am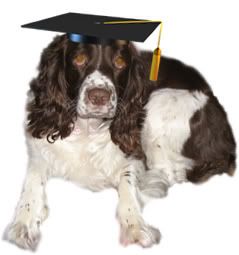 I think most people who share their homes and lives with dogs tend to think their dogs are pretty smart. We know dogs sometimes do amazing things, rescuing people, working as companion and service dogs but how smart are they really?
Now we know that some breeds tend to be categorized as smarter than others and some fall further to the bottom of the 'smart list.' Dogs such as German Shepherds, poodles and border collies tend to be ranked pretty high while beagles tend to rank relatively low, no offense beagles. 🙂
People can have their intelligence tests with standard IQ tests and now so can your favorite canine companion with a doggie IQ test!
"I think dogs are orders of magnitudes smarter than we give them credit for," says animal behaviorist Dr. Karen Overall.
"Everybody wants to believe that some breeds are smarter than others," Dr. Overall says. "And I would be in the camp that says breeds differ in how they show their intelligence."
Stacy Stubblefield wanted to find a way to prove her dog's mental mastery. So developed the pooch i.q. kit.

"We came up with different exercises that would test for the different things that are included in intelligence like problem solving and what not," says pooch i.q. inventor Stacy Stubblefield.

We put her test to the test. We recruited three owners and their dogs to take the pooch i.q. first Enzo, a german shepherd, widely considered a highly intelligent breed.

"I think he's very smart," Enzo's owner said.

Olive also took the test. She's a beagle, a breed that falls to the back of the brainiac pack.

"I hope to show that they are very smart," says Daisy Okas, Olive's owner.

Finally, Stewie, a terrier mix, to represent the mutts of the world.

"Oh, Stewie's going to beat him hands down. Much smarter," says Stewie's owner Harris Bloom.

In the first exercise the dogs must find a treat hidden under a cup. Extra points for knocking over the cup to get to it. Right away, Enzo, pulls ahead of the pack. Olive and Stewie never quite figure it out.

"Sniffs around but does not knock over any cups. Oh, Olive," says Okas.

Next it's time to learn a new trick – turning around in a circle. Within minutes, the dogs are chasing their tails.

To test persistence and problem-solving, the dogs have to find a way to get their favorite treats out of this cone-shaped toy.

Enzo tears the toy in half. Stewie, on the other hand, is easily distracted.

Now the owners must hide from their loyal pooches under a blanket. Enzo is top of the class, again.

"I'm about to pass out," says Bloom.

Stewie's owner holds his breath for a while before time runs out.

Olive seems to know her owner is under the blanket, she just isn't all that interested in getting to her.

After 15 different exercises, it's time to tally the results. True to reputation, Enzo scored the highest.

Stewie came in second.

"Good boy, Stewie. You're number one in my book," Bloom says.

And alas, Olive, the beagle, had the lowest score.

"My ego is a little bit damaged just because I thought she'd do better," Okas said. "But I'm still proud of her."

Dr. Overall says, "We don't actually need to have brilliant children and brilliant dogs and brilliant spouses to have a fantastic life. In fact, the thing you want most from your pets is love and companionship.

Of course there is no way to really know what our dogs are thinking. But this is a fun way to spend quality time with our furry family members. (Todays THV)
Now I think there are more than a few of you out there after reading this that will take some time and see how your pooch measures up, I know I did. I put together a few of these test on my own with what I had at home and was pretty pleased with my babies, Jezzie and Bruti.
There didn't have any problem finding the treat and proceeded to gobble it up.  Turning in a circle, no problem and same with finding me under a blanket.  I think they got a head start there because we play the 'blanket game' all the time.   They both also got a head start on getting treats out of a treat toy since this is normal, if noisy, recreation here.
Since these were the only tests listed, they were all I could try out and I think my babies, both English Springer Spaniels, did pretty well.  They both love to play and seemed to think these were just more fun games for them.  I do think they had an edge because we do play 'games' a lot.
So if you give it a try, let me know how your pooch does 🙂  Taking the time to play with your dog, to interact, is fun and also teaches them.  Just like people, there's no doubt that dogs learn and the more they learn, the smarter they are.
Email This Post
Like this post? Subscribe to my RSS feed and get loads more!