Most Popular Dog Names
Thursday, August 23rd, 2007 at 9:07 am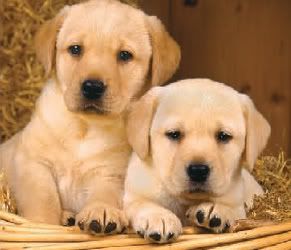 Thought this would just be interesting, here's the ten most popular dog names according to VPI – Veterinary Pet Insurance based on 450,ooo insured pets.
Max
Molly
Buddy
Bella
Lucy
Maggie
Daisy
Jake
Baily
Rocky
Max tops the list for the fifth straight year in a row and according to Dr. Carol McConnel, VP and Chief Vet Officer for VPI, "The continuing popularity of Max is largely due to the fact that it is monosyllabic and simple for people and pets to remember, yet easy to distinguish from common commands, plus, it's a fitting name for an active, energetic pet."
Few of the names on the list are what might be considered traditional pet names and some of them or their cllose variations, appear on the Social Security Administration's list of most common baby names. Jacob (Jake) is the top name for boys, while Isabella (Bella) is No. 4 for girls. Ironically, Max is far from the top at No. 160.
"When people consider their pet an integral part of the family, they are more inclined to choose a human name for it," said McConnell. "The prevalence of pets with human names clearly reflects the growing human-animal bond."
Each of this year's top 10 dog names appeared on last year's list. Bella made the most impressive jump, going from No. 8 to No. 4, while Bailey fell from No. 2 to No. 9.
Hmmmm…. don't see the name Jezzie or Bruti on there anywhere 🙂
Here's another list of popular dog names from Bow Wow Meow, drawn from their pet tag lisitngs.
Max
Jake
Buddy
Maggie
Bear
Molly
Bailey
Shadow
Sam
Lady
Sadie
Lucky
Rocky
Lucy
Daisy
Buster
Casey
Cody
Brandy
Duke
Charlie
Bandit
Jack
Ginger
Harley
Abby
Rusty
Sasha
Sandy
Toby
Murphy
Pepper
Dakota
Katie
Annie
Chelsea
Princess
Sammy
Sophie
Smokey
As I've mentioned, my pooches are Jezzie and Bruti, two beautiful English Springer Spaniels and the doggie loves of my life. Actually if you want to be fussy about it, Jezzie is 'Sassy Jezebel of Heartland' and Bruti is 'Sassy's Pretty Boy Brutus'
So what about you – any fun or creative names? And reason why you names your pooch what you did? Would love to hear! 🙂
Email This Post
Like this post? Subscribe to my RSS feed and get loads more!