SI – What happened to Michael Vick's Dogs?
Wednesday, December 24th, 2008 at 7:37 am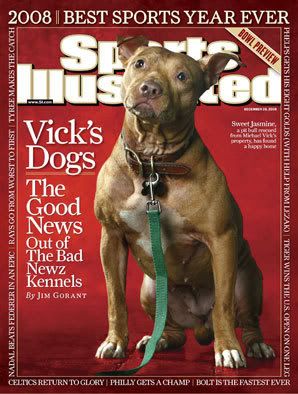 This morning I came across a SI story, "What Happened to Michael Vick's Dogs…" and of course had to read it.  It is one of the most levelly written pitbull stories I think I have ever read.  Dog love, pitbull lover or just someone who wants to know just what did happen to Michael Vick's dog, this is well worth reading, all 5 pages.
They talk about the bad rep that pitbulls have and why, very honestly.  They talk about some of the dogs, how they started how and how far they've come and how far some of them have yet to go.
Some of these dogs will never have a 'normal' life, some will live out their lives in sanctuary or foster, some have been adopted and more are destined to be.
Unlike most dogs rescued from fighting rings, these dogs were lucky.  Of the 51 dogs, 47 have been placed somewhere they can live and hopefully thrive to some degree or another.  Just the fact that although they come from a fighting environment and most have been rehabilitated, some even becoming therapy dogs, totally smashes the stereotype.
It goes to show that with time, training, perseverance and of course the one thing most shelters and rescues are so short of, money, almost any dog can be saved.
So take the time to read th SI story, "What Happened to Michael Vick's Dogs…" It is heartwarming, touching, straightforward and at times heartwrenching but in the end, it is hope.
Email This Post
Like this post? Subscribe to my RSS feed and get loads more!