The Story of Lava, an Amazing Dog and a Determined Soldier – VIDEO
Saturday, November 8th, 2008 at 9:20 am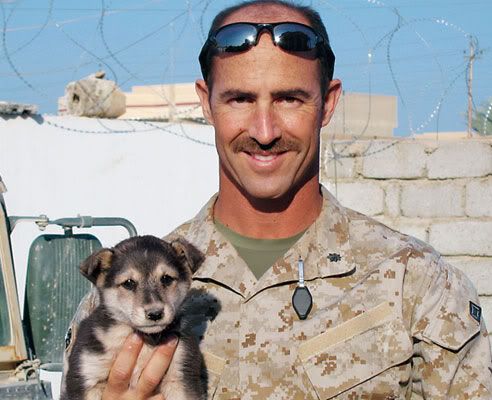 From Iraq to San Diego, the story of Lava, a puppy adopted by a military unit and the trials and tribulations of getting the puppy to the US, the fun and antics of the puppy is one that will really touch your heart in so many ways.
I read an excerpt from the book, From Baghdad, With Love: A Marine, the War, and a Dog Named Lava
and I laughed and I cried. It made me want to run out and get the book to get the whole story, it just touched me so much. The story of a hardened Marine, Jay Kopelman and his unit who find this scruffy little puppy and how a bunch of tough men turn to mushes, the sheer determination and efforts of getting Lava of out a war zone.
Check out the video…
And you can read a wonderful excerpt from the book – Semper Fido – One scruffy puppy in Baghdad. One hardened Marine who couldn't leave him behind.
I don't often recommend books but after the, thankfully, well publicized story and struggle of Gwen Beberg and Ratchet and people working to try to get the military to change their rules on pets in the military, this is so timely.
Email This Post
Like this post? Subscribe to my RSS feed and get loads more!