Trend in Popular Dog Names Shows Change in Dogs' Status
Monday, March 31st, 2008 at 9:18 am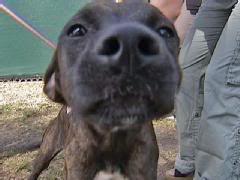 There was a time not so long ago that popular dog names used to be Spot and Buddy and Buster but nowadays the trend is to give human names to dogs. Popular names today include Max, Jake, Lucy and Molly. This change in popular names also shows dogs' chance in status in family households. No longer are dogs just pets, they're part of the family. A recent survey of dog owners showed that 88% of dogs owners consider this to be the case.
You can also see this trend in the 40 billion dollar pet industry with pet spas, boutiques and other businesses catering to pet products and services popping up all over. You also have more and more businesses such as hotels and restaurants becoming pet-friendly. People don't want to travel without their furry family members. For those who do travel without their pets, no longer do they have to just stick their dog or cat in a kennel, there are now upscale pet accommodations. Dogs can have their own room complete with bed and television. Attendants will cater to them with specially prepared meals and social schedules.
Even veterinary care for our pets had progressed to a point that no longer can you only get your dog or cat their yearly exams, shots and spay or neuter, pets are being accorded almost the same care as humans. If your dog or cat is seriously hurt or ill, no longer is having them euthanized the only option. People are paying thousands and tens of thousands of dollars for tests, treatments and surgeries for their furry family members.
"It's a reflection of the position that pets hold in a household," says Mary Thurston, an anthropologist in Austin who has studied dog history for more than 25 years. "They are integral members of the family, just like a child."
"Twenty years ago, how many people were spending on training, dog food, schooling?" says Crystal Franklin, a PetSmart dog trainer in Bethesda, Md. "It's not necessarily the name that has changed but the care behind the dog."
In many families, pets are actually replacing children. Many couples are forgoing having children and filling that empty spot with pets that they can pamper and spoil and love. Really, what can beat that unconditional love that you get from a dog? How can you not smile after a long hard day when your homecoming is greeted so joyously by the wagging tail and happy yips of a furry canine.
Empty nesters are also filling that empty spot with furry companions. Few things ease loneliness as a pet can and for the love they give, we give them everything we can and nowadays we can give them more than ever before.
So, as you think about your furbaby, think about their name and the story behind it.  No longer is a name just a name just a name.  We bestow names on our furry family members with all the love and care that we would name a child. And on that note, here's the top popular dogs names.  Is your pooch's on the list?
POPULAR DOG NAMES
Top male dog names
1. Max
2. Buddy
3. Rocky
4. Bailey
5. Jake
6. Charlie
7. Jack
8. Toby
9. Cody
10. Buster
Top female dog names
1. Bella
2. Molly
3. Lucy
4. Maggie
5. Daisy
6. Sophie
7. Sadie
8. Chloe
9. Bailey
10. Lola
Email This Post
Like this post? Subscribe to my RSS feed and get loads more!