3 Year Old Black Lab Rips, Shreds, Mauls…..
Monday, January 28th, 2008 at 8:32 am
$1800 Worth of Super Bowl Tickets!!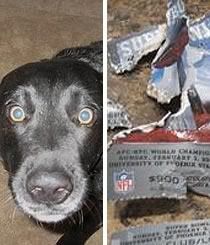 Chris Gallagher specifically instructed the courier to leave the highly anticipated and pricey package tucked safely under the doormat of his Avondale, AZ home.
Unfortunately for Chris, the courier seemed to feel the package would be safer tucked under the door, little knowing that Buddy, a three year old Labrador Retriever, with other crimes under his collar, was happily waiting to take delivery!
Buddy, previously purveyor of such culinary samplings as sunglasses, shoes and even a football "didn't sign, but he licked, mauled, chewed and swallowed portions of the coveted tickets."
When Gallagher came home he was greeted by the back end of Buddy darting out the doggy door and bits and pieces of his latest and most expensive chew toy scattered all over the living room. Buddy kept himself scarce for two days in the backyard.
"He's a troublemaker," Gallagher said. "But he looks at you with those big eyes and you can't be mad for long."
And for all you footballs fans out there, you can stop cringing and plotting what you would do to Buddy if he were your pooch – Gallagher's been assured that the tickets are replaceable, but said Chris, Buddy won't be invited to the Super Bowl party this year!
Source – AZ Central
Email This Post
Like this post? Subscribe to my RSS feed and get loads more!