Amusing Pooch's Antics Amaze Family and Friends
Thursday, February 28th, 2008 at 7:01 am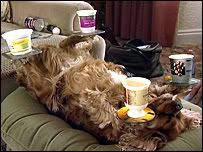 So you think your dog can do tricks? Maybe shake and rollover and a few more? Well here's a dogs that can really do some tricks that are quite the amazing feats of balance and agility.
Meet Cindy, she's a 8 year old Cavalier King Charles Spaniel and she's got quite the balancing act! She can hold a spoon in her mouth with a golf ball balanced on it while there's a plastic tub balanced on her head. She can lay on her back and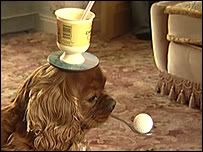 balance tubs on all four of her little paws.
Proud owner Mark Bucknell said, "Who needs the telly when you've got a dog like this?"
The family started teaching Cindy tricks when they got her at eight months old and have run out of new tricks to teach her.
It took her six months to learn to wait for her reward but, despite having undergone two leg operations since, her circus skills have remained intact.

Mr Bucknell had this advice for his envious fellow dog owners.

"You don't do the dog any favours if you leave it as a dumb mut.

"Put the effort in, get your dog some intelligence, get it to understand you will have yourself a better, more fun dog." (BBC)
Email This Post
Like this post? Subscribe to my RSS feed and get loads more!