Keeping Fido Fit When You Don't Have Time
Monday, May 5th, 2008 at 8:25 am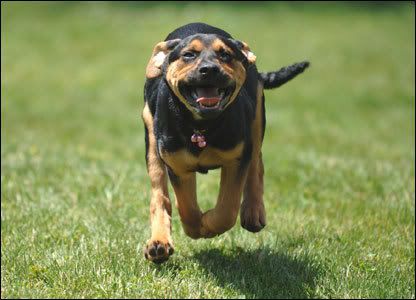 It's a fact of contemporary life that we are busy people with less free time to devote to our own fitness, and the fitness of our pets. Whether we're time-crunched or simply unable to get out and exercise regularly, our dogs still have the same need for physical activity. Many entrepreneurial dog lovers have noticed this gap between the level of exercise dogs need and the level their caring owners are actually able to provide. Thus, a variety of doggie fitness centers have popped up across the country.
Some of these businesses are more energetic versions of the traditional dog walking services. Instead of a stroll, your dog is walked or run by an endurance athlete. This allows the owner to drop off his pooch, do errands, then pick up his happy, well-exercised pet an hour or so later.
Other businesses are a fitness-focused version of pet sitting or doggie day care. The thought behind these facilities is, rather than leave your dog at home to do nothing while you're at work, bring your dog to a facility that will provide physical body conditioning and play – not to mention loads of companionship throughout the day. These facilities generally provide a personal fitness trainer to monitor your dog's condition and progress.
Doggie aquatic centers have also become popular. For dogs that love to play in the water, swimming is an excellent exercise, especially for dogs that may have health conditions that make running difficult. A professional trainer will teach your dog lap swimming or other water exercise. Most will also offer dog swimming just for the fun of it. Some facilities even allow owners to swim with their pets. Since most dogs don't have access to a good "swimming hole" year round, indoor doggie aquatic centers are a great place to give your dog a regular plunge.
If you lack the time or ability to properly exercise your dog, it's important to find some way to provide her with the physical activity she needs. When a dog doesn't get enough exercise, she may become frustrated and even destructive or hyper. Many behavioral issues, such as chewing furniture, scratching doors, running or jumping recklessly in the house and other problems may be quickly resolved by providing a healthy daily outlet to burn off excess energy.
Below are a few of the doggie fitness facilities we've found. If you don't see one in your area, check with your local business listings, pet stores, groomers, kennel clubs or veterinarian to find out if such a service is available in your community.

DogOn Fitness
Metro DC
When a walk with a dog-walker isn't enough to burn-off your active dog's excess energy, it's time to try DogOn Fitness, a unique daily fitness, companionship and outdoor exercise service for dogs. Activities include running, hiking, swimming, fetching, rolling, romping, or just plain strolling. Plus, weekly Adventure Day trips to keep your dog in shape.
www.dogonfitness.com
Canine Fitness Center
Crownsville, MD
This center offers indoor swimming, fun and fitness, and provides a wide variety of services and products geared toward improving and maintaining the health of your canine companion.
www.caninefitnesscenter.com
Northern Virginia Animal Swim Center
Middleburg, VA
Indoor swimming for dogs for health and conditioning. Trainers teach lap swimming for strength and endurance. Horses are also welcome.
www.nvasc.com
The Dog Run NYC
New York, NY
The only pool for dogs in all of New York City, The Dog Run provides an alternative way to interact with your dog, providing safe, fun and active exercise. The pool is heated to a comfortable 87 degrees, is 4.5 feet deep and chlorinated to safe levels for your best friend to swim to his heart's content.
www.thedogrun-nyc.com
Running Paws
New York, NY
Running Paws provides urban dogs with the daily exercise they need to help enhance their health, happiness, and overall quality of life. Endurance athletes run with your dog on a regular schedule.
www.runningpaws.com
Fido Fitness
Calabasas, CA
Instead of leaving your dog at home all day to do nothing, bring your dog to Fido Fitness and give him a personal fitness trainer and pet sitter.
www.calabasasdogwalker.com
Urban Dog Fitness & Spa
Toronto, Canada
Fitness and play while you're away. Doggie playgroups and a huge athletic activity area keep your dog happy, stimulated and healthy. See what your dog is up to on the web cam.
www.urbandog.ca
Dunkin' Dogs K-9 Swim Center
Janesville, WI
Dogs can swim in still water or, for more exercise, can swim against a controlled water flow provided by swim jets in a larger pool. Swimming is also perfect for the canine athlete who is active in performance events or to keep in peak condition.
www.dunkindawgsh2o.com
Email This Post
Like this post? Subscribe to my RSS feed and get loads more!