Pie Eating Pooch Almost Ends Pie Eating Contest Before it Starts
Friday, December 14th, 2007 at 7:50 am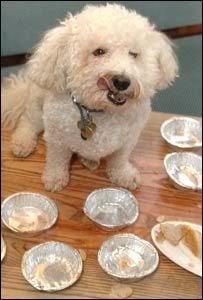 This little dog, a Bichon Frise, started his own pie eating contest prematurely to the official World Pie Eating Championship, in Wigan, UK.
When his owner, Dave Williams, the 1995 pie eating champion was distracted, Charlie raided the refrigerator and wolfed down 20 of the pies that were slated for the contest and damaged an additional 10 more.
Tony Callaghan, owner of Harry's Bar which stages the competition, said: "Charlie could have jeopardised the whole competition but luckily we managed to get a fresh bake this morning.
"The twist is that Dave has turned up this morning saying he wants Charlie to enter the contest.
"We've nothing in the rules to say dogs can't compete so he will be lining up against the other pie eaters and judging by his performance yesterday he's got a great chance of winning."
Unfortunately for Dave, it looked like Charlie was still stuffed from his gorging session the day before and couldn't even manage to finish one pie!
Mr Williams said: "Charlie was a rescue dog and has habit of picking food up from the street.
"We think this trait has stuck with him because he never knew where his next meal was coming from as a youngster so there was no way we could be angry with him for eating all the pies yesterday.
"However, it seems that he didn't have much room for anymore today when the competition was staged."
Source – BBC News
Email This Post
Like this post? Subscribe to my RSS feed and get loads more!