Ski-Lift Riding Pooch
Monday, February 18th, 2008 at 10:06 am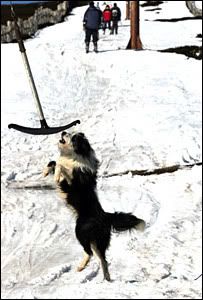 We all know dogs can do some fun, silly and amazing things. Well, here's a new one to add to the list!
Guinness, a 4 year old collie, has a penchant for the slopes. No, he doesn't ski but he does love to hitch a ride on the ski-lift then tumble, run, skid and slide his way back down the slopes.
Patrons at the Glenshee Ski Centre in the UK are entertained by the feisty pooch's antics as he jumps up and grabs the lift with his teeth then goes for a ride.
One snowboarder, Dave Edwards, said: "Guinness is just amazing. He's so entertaining when you're waiting for a lift or going down a run. The first time I saw him hanging I couldn't believe it – I thought I was hallucinating."
Managing director of the ski center and pet parent to Guinness says, "Guinness is slightly mad and very cheeky, but also extremely clever.  He has actually figured out how to work the release mechanism and go up the mountain whenever he wants."
"He will hang on for a while and go up for as long as he feels like it. He either goes all the way to the top or gets bored and drops off into the snow and runs back down to get another one.
"But when it's busy the lift instructors have to keep an eye on him and make sure he's not getting in the way too much."
He added: "He is a very nice dog, a real character. He is a great favourite with everyone who comes up here."
Source – BBC News
Email This Post
Like this post? Subscribe to my RSS feed and get loads more!