Beautiful Catahoula Lepoard Dog Mix on Short Time
Sunday, June 10th, 2007 at 12:24 pm
I don't often write about dogs that need adopting too often because there are so many that do and all of them are special in one way or another but every now and then one will catch my eye and steal my heart!
This is Shadow,  a beautiful 2 yr old Catahoula Leopard dog mix that is on very short time now. Unfortunately, Shadow has run out of options. He is housebroken and loves his crate. He loves people of all ages. Shadow is not dog-friendly. Shadow excels in agility. He can be easily walked in public; he sits when other dogs pass. Shadow is being boarded in Folsom, CA, but can be transported anywhere in the US or Canada at the expense of Catahoula Rescue.
He was rescued from a shelter where he impressed the staff with his skills on their agility course. The staff all turned out to see him leave and bade him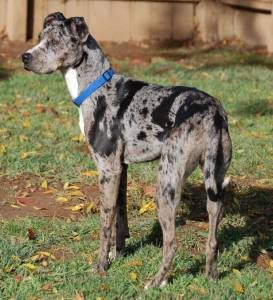 a tearful farewell. Shortly after leaving the shelter, Shadow and his foster mom, an older woman, were involved in a serious auto accident during a snowstorm. Shadow guided his foster mom to safety three miles away. This woman claims that Shadow saved her life.
Not surprisingly, she "failed" as a foster parent and adopted Shadow. He proved himself to be a terrific companion for all the people in the family. Tragically, the older male dog took a dislike to Shadow, repeatedly attacking him, and Shadow responded aggressively. After a few rounds of this, the adopter decided to return Shadow to the rescue.
Unfortunately, the only available foster was a temporary situation involving a family with other dogs.

After a few weeks of doing fine, Shadow got into a fight with the resident female dog.
Today, Shadow is in a boarding kennel. Funds will only support a few weeks of boarding. At no point has Shadow shown the slightest indication of aggression towards people, although he is too rambunctuous for small childern. However, at this point, he cannot be trusted around other dogs in the home. He is fine on a leash – no lunging, etc. We urgently need a foster or adopter without other dogs anywhere in the U.S. or Canada to take Shadow while we work on a more permanent home for him. Shadow's behavior with cats is unknown. Please help if you can!
If you like to know more about Shadow or contact the Catahoula Rescue, please see his profile.
Email This Post
Like this post? Subscribe to my RSS feed and get loads more!