A Dog's Day in Court
Thursday, September 6th, 2007 at 7:14 am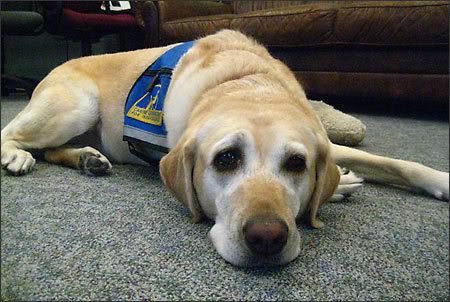 Meet Ellie and no, she's not on trial. Ellie, a Lab/golden retriever mix, is a service dog assigned to the King County Prosecutor's Office and has been with them since 2004.
County prosecutor Dan Satterberg admitted "we're not necessarily warm and fuzzy people," and that's where Ellie comes in. In cases where children have been victimized, prosecutors said they need to build a rapport so the children feel safe telling the truth about their experiences and Ellie helps to support kids in interviews, juvenile drug court cases and trials.
King County Superior Court Judge Julie Spector said Ellie gives people confidence testifying in what can be an intimidating environment. Ellie and service dogs like her help children through terrifying experiences, testifying against abusers, parents and even just being in the courtroom.
While this has been very positive for the prosecutors' office, many defense attorneys object and say that they feel jurors might be "unfairly swayed by their cuteness, among other reasons."
Scatterburg said he thinks one day service dogs like Ellie will be standard issue in prosecutors' offices all over the county.
Personally I think it's a wonderful idea. Children who have been traumatized and abused can be so terrified that it can difficult, if not impossible, to testify. If a sweet dog like Ellie can help to get them through the experience which can help to put the 'bad guys' away, I think every prosecutor's office should seriously think about adding a pooch to their staff! 🙂
Email This Post
Like this post? Subscribe to my RSS feed and get loads more!