Dog Helps Healing After Virginia Tech Massacre
Thursday, May 10th, 2007 at 11:34 am
Tuffy, a Cavalier King Charles Spaniel and his mom, Rose, were the first canine crisis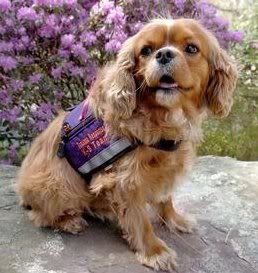 response team to be deployed to Blacksburg, Va., after the massacre at Virginia Tech. They arrived on April 23, the day students returned to campus after classes were suspended for a week of mourning for the 32 students and teachers who were killed.
Sudbury dog part of healing at Virginia Tech – In a room full of people, Tuffy knows immediately who needs him most.

Wearing his official purple vest with the designation Trauma Response K-9 Team in pink letters, Tuffy introduces himself with a wag of his tail and gets to work.

Tuffy's job is to soothe a person who's feeling badly.

"The most masterful thing that I see in him is that in crises he can find, if we're sitting in a group, who are the most despairing and climb into their lap," said Dr. Karla Rose, his human partner in trauma and recovery work.

"He will stay with that person and just sort of melt in their arms, and, as their despair resolves, he will withdraw and go to the next despairing person." (From The Sudbury Town Crier – May 9, 2007 – For the full story Click here)
Certified therapy dogs can be found everywhere now from hospitals to nursing homes to anywhere they are needed. Any dog owner can tell you the positive impact that a dog has. There have been innumerable studies all with the same end result, dogs make us feel better, they improve our overall health and more and more they are becoming 'working dogs' in ways people never imagined many years ago.
Dogs 'work' in many areas such as;
search and rescue
'sniffers' for many things such as; bombs, drugs, accelerants (arson related fires), money, corpses and many others
hunting
guarding
Just to name a few.
Then you have your companion, service and therapy dogs which do everything from assist the sight or hearing impaired to help those with disabilities. Dogs now do therapy to help people overcome grief and despair. There are seizure dogs that can alert their owner to an upcoming seizure before they have a clue.
So you see, dogs are much more than 'just pets' nowadays.  Pretty wonderful and amazing animals, aren't they? 😀
Email This Post
Like this post? Subscribe to my RSS feed and get loads more!