Smoochin' Pooches Raise Money for Rescue
Monday, September 22nd, 2008 at 8:08 am
This is just too cute not to share!! This past Saturday there was a German Festival in Bixby, OK with all the fun and frivolity that festivals always have. This year, Tulsa Boxer Rescue gave a twist to an old favorite with their booth. Instead of a regular ole' kissing booth, Tulsa Boxer Rescue had a Smooch-A-Pooch booth.
The booth was a great hit and who could turn down a big ole sloppy kiss from such a sweet and friendly pooch. Check out these great pictures!
Looks like they could have added hugs to the smooches too!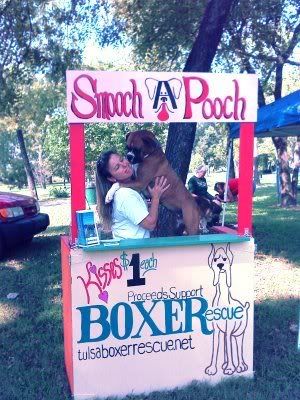 Thank for sharing this with us Regena! I'd have been in line for one of those sloppy smooches myself! 🙂
Email This Post
Like this post? Subscribe to my RSS feed and get loads more!