Angel, The Five Legged Dog, Needs an Angel of Her Own
Tuesday, April 1st, 2008 at 9:26 am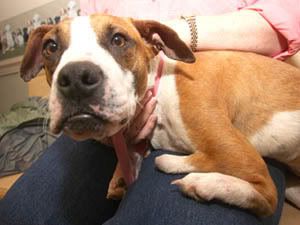 Meet Angel, a super sweet 7 month old puppy who through a genetic aberration, has five legs. Yup, that's right, 5 legs.
For some reason, the bones in one of her front legs split to give the impression of an extra leg. Now this doesn't hurt her or cause her any discomfort but due to this, she actually functions like more of a three legged dog than a five legged one. She uses her three normal legs to move around because the two others are too short to reach the ground.
This sweet girl was found roaming the roads of a tiny rural Missouri community, possibly abandoned due to her deformity.
"It's strange that, in a town where everyone knows everyone, no one would step up and claim this dog," Deborah Parker of St. Francis Animal Sanctuary in Vermilion, OH, said.
So as the story goes, she was picked up and held in the local animal shelter for 5 days after which she was scheduled to be euthanized. Luckily for Angel, Deborah Parker was contacted and thus began Angel's odessy to a new life and hopefully soon a new forever home.
Angel traveled a 12 hour, 12 legged journey to make it from Missouri to Vermillion, OH where she will stay with Parker until a suitable home can be found for her.
Deborah Parker has taken in thousands of dogs, many doomed in their last days, others with cancer or diabetes; dogs crippled by abuse or malnourishment; dogs with three or even two legs but Angel is a first for her, with five legs but she says that Angel is one of the sweetest dogs she's ever met.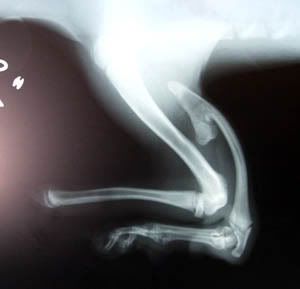 Dr. Frank Krupka, a veterinarian at the Avon Lake Animal Clinic said of Angel, "I've never seen anything like it."
Looking at the x-rays, Krupka said they would most likely not operate on Angel because it would basically just be cosmetic and in fact, removing the limb may actually even be detrimental to her.
"She uses it as a prop," Parker said, "I'd hate to remove it and make her into a complete tripod."
Amazingly, with everything Angel's been through, you'd almost expect her to be shy and wary and distrustful around people. Instead she's an attention hound, pun intended, she craves attention and is friendly and even-tempered.
"This is how she was born," Krupka said. "This is normal for her. She just needs someone who will be attentive to her needs."
Parker said she will be sad to see Angel go. "She is absolutely one of the best dogs I've ever had."
Want to help? Do You want to be Angel's Angel?
All of the dogs at St. Francis Animal Sanctuary are looking for a loving home, and after Angel is treated, spayed and vaccinated she will be, too. St. Francis operates solely on donations. If you would like to donate or find out more, visit the Web site at Saint Francis Animal Sanctuary.
Email This Post
Like this post? Subscribe to my RSS feed and get loads more!