Big Search for a Tiny Dog – REWARD!
Friday, February 8th, 2008 at 9:47 am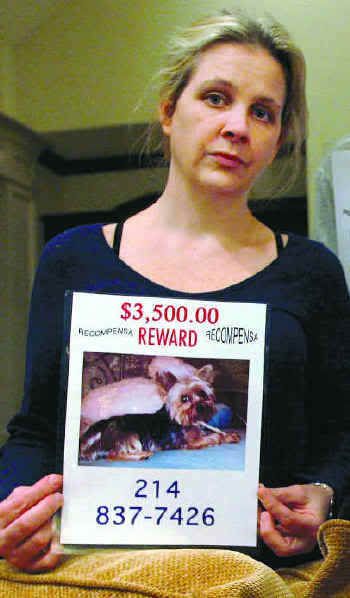 The loss of a pet is always painful but I think the loss of a pet because it has gone missing or stolen is even more painful then a pet's passing. Death is final and often comes due to age or illness, there's closure. Yes, the pain and grief are horrendous, I know this. But when a pet is lost or stolen, there is no closure, you don't where your furbaby is or how they are doing. There are always questions.
This is the case for Amanda Lawson and her family of North Dallas, TX, whose little 4 lb Yorkie, Tinkerbelle, wandered out of the house and is gone. They recently moved into the home and neighborhood, the door didn't close properly and the tiny dog got out.
The search began almost immediately with neighbors and even the homeowners association pitching in to help, all to no avail. Lawson even hired a search team, Pet Detectives, with four canine searchers. Sadly they didn't have much luck either. The scent petered out just a half dozen houses down the street from Lawson's home.
"We brought out Dodger, who got Tinkerbell's scent from one of her little Christmas outfits. He went to the door she went through, and he followed the scent about six houses down the street and stopped," Ms. Goin, owner of Pet Detective said. "It was a cold day when Tinkerbell disappeared, and more than likely, someone was driving by and picked the dog up. The windows of the car would have been rolled up because it was cold, and the scent just stopped."
With thousands already invested and a $3500 no questions asked reward, the only hope now is that someone sees the big sign in the yard, one of the fliers or the story and contacts them.
Tiny dogs are a big market, extremely popular right now especially "attractive in a culture where celebrities carry their toy pooches like accessories, where home invaders pose as puppy buyers to steal whole litters, and where pet shops install special security systems to protect their tiniest dogs."
"These dogs, unfortunately, are like money on the paw," Ms. Goin said.
So for now the Lawson family grieves and hopes and prays, waiting for a phone call they hope will bring the furry little family member back home to them.
"I don't know why I love this dog so much," Ms. Lawson said. "It's like one of my children has been abducted and I don't know how to find her."
Do you know anything? Please, if you do, don't let this family continue to grieve and wait! Imagine if it were you.
Source – Dallas News
Email This Post
Like this post? Subscribe to my RSS feed and get loads more!