Deployed TN Soldier's Dog, Rocky, URGENT
Wednesday, March 26th, 2008 at 10:20 am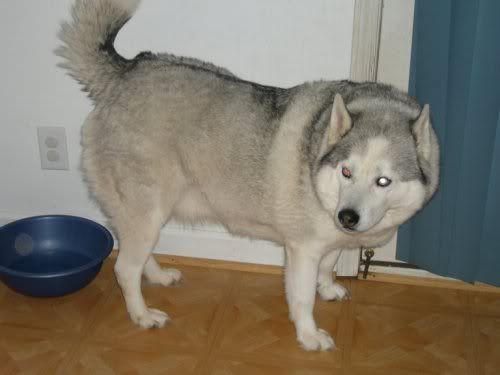 I wish we could find home for all the dogs that so desperately need them but there's something that touches me deeply when a soldier deployed into action has to give up his beloved canine companion and can only hope and pray that a good home can be found in time.
Rocky is just such a dog. His owner, a TN soldier deployed into action was forced to give him up and now he sits in a shelter in desperate need of rescue!
Rocky – URGENT
Humane Society of Clarksville-Montgomery County
Clarksville, TN
(931) 648-8042
humanesociety@clarksville.com
Here is Rocky's information from Petfinder;
Rocky is a handsome Siberian Husky. He was born in June of 2001, weighs 92 pounds and is white and gray with beautiful blue eyes. Rocky is overweight but as with most Huskies, he has lots of energy and looks forward to play time and walks to help him trim down. Rocky is HOUSEBROKEN, likes to sleep inside and behaves well indoors. He also enjoys his time outdoors and sometimes spends a couple of hours a day in his fenced yard. Rocky gets along well with children and female dogs. Nothing about his personality indicates that he wouldn't get along with other male dogs, he just has not spent any time with them. Rocky would though prefer a home without cats. Rocky also knows several tricks, and he will sit, jump or beg on command!

Rocky's owner is serving in Iraq and has had to make the tough decision to find a new home for him as Rocky's current caretaker will also soon be deployed. But this lovable beautiful easygoing Husky will bring lots of laughter and affection to his new home.

Adoption Fee: $50, which includes vaccinations, rabies, deworming, current heartworm & flea prevention. Rocky has been neutered.
Please help and get the word out on Rocky! Don't let him be a statistic.
These soldiers and their pets stories are really sad because these men and woman sacrifice so much in order to serve and protect. We need to try and help them have less worries & heartbreak back home.
Email This Post
Like this post? Subscribe to my RSS feed and get loads more!