Georgia Cocker Spaniel Rescue Closing, Dogs Need Homes ASAP!
Thursday, April 17th, 2008 at 10:17 am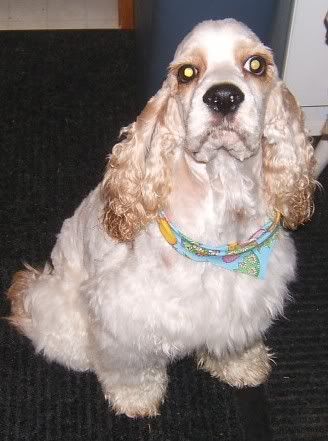 I want to pass this along in case someone case provide help of assistance which is needed ASAP! If you can help in any way or know of a rescue who can, please contact Joanne or get the information out!
Good morning, I am Joanne Halvorson, the Georgia Coordinator for the Cocker Spaniel Adoption Center (based out of Maryland). We are a 501(c)(3) nonprofit organization and are licensed with the State of Georgia Department of Agriculture.

Wednesday night our group here in Georgia (4 of the 5 foster homes we currently have) participated in a two-hour conference call with the board of directors to determine the direction in which the Georgia arm will be heading, or whether it is necessary at this point in time to disband the group and pull rescue out of Georgia altogether.

After rescuing cockers for 6 years now, I believe it's time for me to call it quits. My own personal dogs have taken a backseat to the rescues, and I think it's high-time I spend the quality time with them that they deserve. Besides rescue, I am heavily involved in pet therapy and agility training, and my job has gotten to where the demands are a lot greater on my time, not to mention I have a 46-mile drive one way to work, so the gas prices are eating me alive.

Anyway, what it boils down to is this. We currently have 20+ cockers in our rescue, and unfortunately, several of them are seniors. Many of these Cockers have been in rescue 2+ years. We have had a difficult time adopting out the males for whatever reason. Pictures and descriptions are posted on our Petfinder web site. The board has given us the go-ahead to transfer dogs to other reputable rescue groups who are willing to help get them adopted. All of the dogs in our rescue are fully vetted.

I would appreciate your contacting me if you are in a position to assist us in any way, shape, or form.

Regards,

Joanne P. Halvorson – jo102759@yahoo.com
Cocker Spaniel Adoption Center, Inc. (Georgia)
Georgia Shelter License No. A04-0189
www.csacga.petfinder.com
678-963-0023 (home)
404-483-8379 (cell)
Email This Post
Like this post? Subscribe to my RSS feed and get loads more!