On a Personal Note – My Jezzie Isn't Doing Well
Monday, February 16th, 2009 at 8:17 am
Now I don't talk too much about my babies except in mostly general terms about how spoiled and loved they are.  I guess everyone knows how much I love dogs in general and mine specifically.  Anyway, last week my girl, Jezzie, hurt herself.  Not sure what happened.
On Wednesday night she was fine, early Thursday morning I think she was okay too but it was very early and shortly after I get up, my Jezzie and Bruti usually head down to the basement and curl up on the couch there where it's dark and quiet so they can continue to sleep undisturbed, told you they were spoiled.  Anyway, when it was time for breakfast, Jezz was very slow in making it upstairs and when she did make it up I noticed that something was very wrong right away.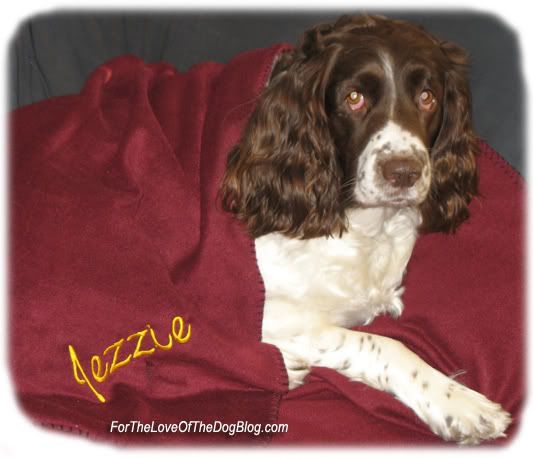 She was almost literally dragging herself she was limping so badly.  Now, this is not the first time this had happened, something like this happened a couple of months ago, again no clue what actually happened and I figured that it was a strain or sprain and kept her quiet for a while.  After some time she was back to herself and I hoped it was just a one time thing.
Well, needless to say I was quite worried when it happened again and I have been keeping her quiet and thanks to some wonderful friends, I am taking her in for some tests today to see if the vet can find out what, if anything, is wrong with my girl.
So I am writing this for two reasons, first, to thank my dear friends who stepped up and are making is possible for me to get my baby seen for some tests.  Unfortunately canine advocacy is not a financially lucrative thing to do but it is important to me.  So, like so many others out there, I struggle to get by day by day.
Sometimes you never realize the friends you have until you need them and they come to your rescue without you even saying a word or asking.  I mentioned to one friend who lives half a country away that my girl was hurt and she got the word out to another who got the word out to some other mutual friends and before I knew it people were helping me. I didn't ask, they took it upon themselves because they knew I needed the help.
So, my friends, thank you! You know who you are and from the bottom of my heart, you have my sincerest gratitude!
And secondly, I just want to ask for your thoughts for my girl, that there is nothing serious wrong with her and that she will be just fine.  All of you that have furry, four-legged family members know just how important they are to you and it's the same with me.  My Jezzie is my "heart dog," she's only 6-years-old, so she's quite young and the thought of her being in pain and hurting or having something seriously wrong with her just breaks my heart.
Bruti's doing well, just a little forlorn at not having Jezz to play with and pester as he normally does.
I'll let everyone know how Jezzie is doing when I find out anything, just keep your fingers croseed for us! 🙂
UPDATE – Jezz's appt was at 9:30 am (CST) and it's now a little after 10:30 am.  I'm back but Jezz is still there.  The vet examined her and didn't find any evidence of strains or sprains, her knees were fine.  Next they ran some bloodwork to rule out Lyme's disease and anaplasmosis, I waited for the results and they came back negative.  During the exam the vet did find some 'hot spots' on her lower spine, hips area.  Now they are going to get some x-rays and check her spine and hips for anything and should be back to me around noon-ish.
So, still don't know what the problem is but have ruled out some things so I guess that's good.
Thanks you all for your good wishes and thoughts.  I'll keep you posted when I find out more.
The Results Are In – Well, went back to the vet for a consultation after they did the radiographs.  Looks like my girl has some pretty good arthritis in both of her hips which is causing some pain but the problem is from spondylosis.  It's located at lumbar spine disc 5-6 and the lumbo-sacral junction.
The vet said that surgery is not a really good option, very invasive, very expensive and not always great results.  There is about a 1 in 10 chance, based on dogs with this condition, that there could be a disc rupture.  If that happened she would have to be in surgery within 12 hours or face permanent paralysis.  There is also nerve involvement with this condition which is why the "episodes" come on so quickly and painfully.
At this point, based on the vet's recommendation, I am looking at possibly chiropractic therapy and drug therapy for pain.  The drugs that she advises are pretty heavy-duty which indicates that the pain is/can be pretty severe.  I am not fond of drug therapy but even less fond of my girl being in pain.  She is and will always be on activity restrictions from now on.
I guess, all in all, this is not as horrible as it could be.  It's not so much treatable as manageable.  The vet did say that between the diet I have her on, combination home-cooked and raw, and the supplements I giver her; omega 3 fatty acids (fish oil) and glucosomine, it probably really made a difference in that she is not worse, in worse pain and has not suffered from more episodes of this.
Right now I have a lot of research to do, want to find out everything I can.
Thank you all again so much for all your kind thoughts and prayers and well-wishes.  It means more than I can say to have so much love and support.
Email This Post
Like this post? Subscribe to my RSS feed and get loads more!