You've Heard of Dogs Chasing Cars? How About Planes? VIDEO
Friday, February 6th, 2009 at 7:39 am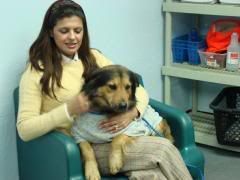 Thursday morning a stray dog led workers at Miami International Airport on a merry chase as he ran along side Runway 1230 about 7:30am.
For about half an hour the dog led airport ramp agents on a slow speed chase as five airport vehicle attempted to corral the wily dog. They managed to chase him off the runway shortly after 8 am and flights were not affected.
Animal services were called and managed to rescued the scared pooch, named Boeing by Animal handlers at Miami-Dade Animal Services.
Boeing is a healthy and well cared for mixed breed with no collar or microchip. He'll be held at Miami-Dade Animal Service for 5 days to see if any owners come forward to claim him, if not he'll be available for adoption.
He sure is a cutie and doesn't look like he could wreak as much havoc as he did. Glad that Animal Services managed to rescued him and now he will have a chance to be adopted.
Good luck Boeing!
Dog Leads Airport Workers on Merry Chase
Email This Post
Like this post? Subscribe to my RSS feed and get loads more!