Cool Ideas for Dogs for those Summer Scorcher Days
Saturday, June 7th, 2008 at 7:35 am
With summer upon us, those scorching days will be hitting their peak so I thought I'd pass on some 'cool' ideas for your canine companion.
A dog's temperature is supposed to be about 102 F and since they can't sweat it really doesn't take too much for dogs to overheat. You definitely want to make sure your pooch has plenty of fresh cool water and someplace cool and shady to escape the heat. I know my two prefer the AC vents themselves. But then I'm sure I've mentioned at least once or twice that they're completely spoiled! 😀
NEVER, EVER, EVER leave your dog in the car when it's hot! It takes only minutes for a car to heat up to killing temps for a dog. If you check the news you will see story after story of people being cited and even arrested for animal cruelty for leaving their dogs in cars and summer is just beginning. It's cruel and it's illegal!!
For more info, check out – Summer Care & Safety Tips
Now for some 'cool' ideas!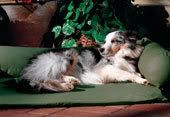 The only dog bed you fill with water
to keep your pet cool all summer long!
*Water-filled dog bed keeps your pet cool on hot days
*Durable, cushioned comfort offers soothing relief
*Easy to clean – simply wipe with a wet cloth

*Comforts your panting pet in hot weather.
*Brings cooling relief to your dog's belly area, where most of the heat collects.
*Its non-toxic co-polymer crystals absorb 400 times their weight in water, and as the absorbed water evaporates, your pet is cooled.
*Reusable and hand-washable insulated material with self-fastening closures.

* Dog cooling bandana stylishly and economically cools your panting pet
* Outdoor dog accessory's nontoxic polymer crystals absorb 30 times their weight in water
* Edged in reflective tape to aid in night visibility




*Cool your panting pup on warm days!
* Activated crystals stay cool for days
Email This Post
Like this post? Subscribe to my RSS feed and get loads more!