My Dogs' Portrait!
Wednesday, July 11th, 2007 at 2:33 pm
I am so excited that I wanted to share this! A dear friend of mine gave me the most wonderful gift – to have my babies', Jezzie and Bruti's, portrait done by Mickey of Critter Alley and I just got the proof!! Check it out, it's wonderful!!!
Bruti & Jezzie
by
Mickey of Critter Alley
This is the picture the portrait came from.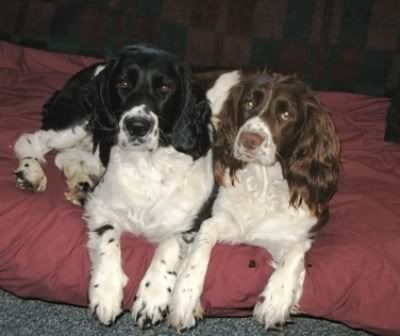 Thank you so much Sally for such an incredible and thoughtful gift!! I can't think of anything that would have touched me or meant more to me!
And thank you Mickey for doing such an awesome job capturing my babies!! I've seen so much of your incredible work but seeing my pups imortalized by your talent is without a doubt the greatest!!
Jezzie and Bruti's portrait was done in an acrylic medium but I've also seen his work in charcoal and pencil, just wonderful!! If you want to see some more of Mickey's wonderful portraits, visit Critter Alley and look around! 😀
Email This Post
Like this post? Subscribe to my RSS feed and get loads more!