Canny Canine Rescues Orphaned Baby Roo
Tuesday, April 1st, 2008 at 7:01 am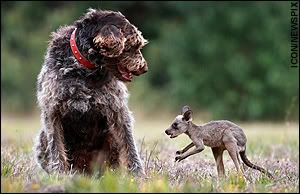 Here's your dose of heart-touching oooohs and ahhs for today, you just gotta love it!
For one tiny 4 month old kangaroo, a dog out for a walk became a savior. The kangaroo's mother had been hit by a car along a busy road and the joey was still alive in the pouch but had no way to survive. Sadly, this is a common occurrence in Australia and most of the time the babies will either perish during the accident or succumb shortly thereafter as they have no way to survive on their own.
Well, this little roo got very lucky when Leonie Allan was talking her family pet, a 10 year old German short-haired pointer cross named Max, out for a walk. They passed a dead kangaroo but something got Rex's attention and he pointed and went to investigate. Allen though Rex probably found a snake and was quite surprised when he returned with his 'find.'
"I was worried he'd found a snake and called him back, but when he returned he dropped the joey at my feet," Mrs Allan said.
"I was so surprised and delighted. Rex saved the day."
Rex has very gently removed the tiny joey from his mother's pouch and carried him to Allen, placing the baby kangaroo at her feet, safe and sound.
"He obviously sensed the baby roo was still alive in the pouch and somehow had gently grabbed it by the neck, gently retrieved it and brought it to me. The joey was snuggling up to him, jumping up to him and Rex was sniffing and licking him. It was quite cute."
Rex, Jr., as the little guy was quickly named after his canine rescuer, has much better prospects than most baby roos who wound up orphaned and abandoned. He's be reared in a sanctuary until he's 10 months old then released into the wild.
Tehree Gordon, director of Jirrahlinga Wildlife Sanctuary, was amazed at the bond between the animals and said the fact Rex was so gentle with his younger namesake was proof that dogs – often criticised in Australia for killing native fauna – could live in harmony with local species if they were taught not to attack them.
"That Rex was so careful and knew to bring the baby to his owners, and that the joey was so relaxed and didn't see Rex as a predator, is quite remarkable," she said.
Email This Post
Like this post? Subscribe to my RSS feed and get loads more!