Cute Christmas Dog Pictures
Monday, December 24th, 2007 at 2:16 pm
Fun Xmas pics from Christmas… Gone to the Dogs!
Now these aren't your usual Christmas dog pictures. There are many dogs who will not even consider have themselves 'decorated' so here's a way around it. These are some fun pictures I did for friends with dogs. 🙂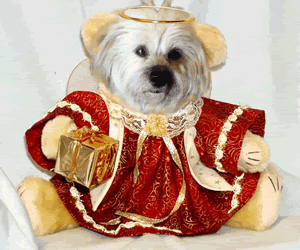 This is Missy, an adorable little 4 year old Lhasa Apso mix. She gets to be a Christmas Angel Bear.
This is Rudy, a one year old Jack Russel Terrier mix with attitude. He gets to be a Santa Bear for Christmas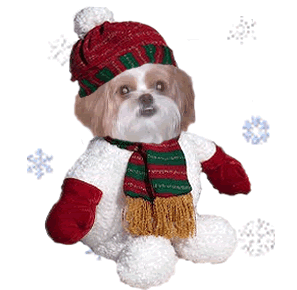 This is Lucy Lu, a cute little3 year old Miniature Poodle/Japanese Chin mix. She gets to be a Snowgirl for Christmas
This is River, an adorable little Havanese, not even a year old yet. She lives in Canada and it is cold, cold, cold so she got her own igloo and Christmas tree along with some little red mittens and a cap with a pom pom.
Hope you enjoyed those and maybe this gave you some ideas if your pooch won't don the Santa Hat or Antlers you searched all over to buy just for them. 😀
Email This Post
Like this post? Subscribe to my RSS feed and get loads more!