Meet Chomper, Winner "Ugliest Dog" Contest – He's Looking for a Home
Tuesday, March 10th, 2009 at 5:04 am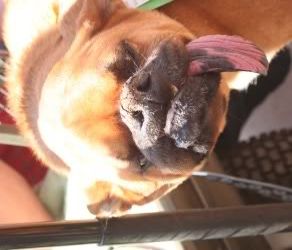 For the 14th year, some of the ugliest dogs in the area gathered for Del Mar, CA's "Ugliest Dog" contest.  This year's winner is a 4-year-old Boxer mix namer Chomper and hopefully his notoriety will help him out because you see, not only is Chomper not the most attractive pooch around, he's also a shelter dog.
Chomer wound up at the shelter, San Diego Animal Rescue, 4 years ago a a puppy and is the only survivor of his litter that came in with distemper. For all that his looks are a bit unusual, he's a healthy boy says one of the shelter volunteers.
Between 400 and 500 dogs showed up to compete in 14 different categories including Cutest Dog, Dog Who Looks Most Like its Owner, Best Trick, and Best Costume. A crew from Animal Planet captured it all for an upcoming episode of "Outrageous Animals." And everyone had a great time.
Best of all, the proceeds are all for charities. Last year Del Mar Kiwanis donated $6,000 to each of its selected charities. This year's Ugly Dog Contest proceeds go to benefit: Rancho Coastal Humane Society Safehouse Program, Helen Woodward Therapeutic Riding Program and Friends of Del Mar Parks.
Email This Post
Like this post? Subscribe to my RSS feed and get loads more!