Near Record Puppy Litter
Thursday, December 27th, 2007 at 10:46 am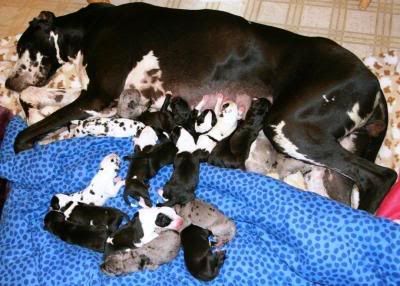 OMG!! Imagine one dog with 19 puppies!!! This was Julie Nelson's holiday surprise as her Great Dane, Kenya, gave birth to her litter of puppies 2 days before Christmas.
Kenya actually delivered a total of 21 puppies of which only 19 survived.
The birthing, which was a planned breeding, began in the kitchen of Nelson's Boulder Creek home. After 12 hours and 10 puppies, Nelson decided it was time to take Kenya to the hospital. One more puppy was born on the way and 4 hours later there was a total of 21 puppies.
Nelson said that although it was a planned breeding, she never expected so many puppies!
Kenya came very close to breaking a world record of 23, the largest puppy litter ever born, a three-way tie held by a Great Dane, an American foxhound and a Saint Bernard, according to four dog Web sites. Several of those puppies died shortly after birth.

The record for the largest number of puppies in a litter to live – 20 – is held by a Neapolitan mastiff, according to the four sites.

Nineteen newborn puppies still make for a lot of tending and burping that needs to get done. For now, they are working in shifts at Nelson's identical twin sister's house in Boulder Creek. Stand-in moms include Nelson's 16-year-old daughter, Shayne, Nelson's sister Beth Thiele and even Thiele's husband, Kevin.

Beth Thiele breeds and shows golden retrievers and was amazed to see Kenya produce "more puppies in one litter than I've had in my last four litters," she said.

They've got the feeding routine down for now: Half the puppies nurse on Kenya and the rest feed on formula in baby bottles. Then they rotate.

"We took weights on all of them," Nelson said. They weighed from 13 ounces to 1 pound, 7 ounces."

Naming them was fun.

They started "with the reindeer names, but we ran out of those." Then, some of them had real obvious names – like Smudge, who has a big black smear on his face, and Bermuda, who has three white dots in the shape of a triangle on his back right hip. "That's the runt."

And one, a female, is simply called Giant. "She's the biggest of the litter – at 1 pound, 7 ounces," Nelson said. "She just muscles in and takes over whichever teat she wants."

The puppies should weigh roughly 25 pounds by the time they're 5 weeks old – an image the sisters have trouble comprehending: 19 25-pound puppies chewing and wrestling and bouncing around their home.

Nelson plans to sell all of the pups, probably for $1,000 to $1,200 each, although she said a couple of them may be sold for more because their markings are so good. The pups won't leave their exhausted mom until they're 8 weeks old.

Kenya might have her weight back by then.

"She was 145 pounds when we bred her," Nelson said. "When she left the hospital, she was 117 pounds." (Mercury News)
Email This Post
Like this post? Subscribe to my RSS feed and get loads more!