Ruby, The Pit Bull, Is 'Begging' For Your Votes – VIDEO
Sunday, October 26th, 2008 at 8:31 am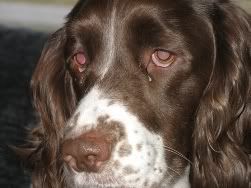 This is Jezzie here and I'd like to ask you to give a paw in support to a wonderful and deserving pup. Ruby is a Twin Cities pitbull needs your help to be the "top dog" of the biggest dog treat company in the country.
Now I usually stay outta politics, not a dog's game, but this is one candidate that I fully support and stand behind. Rudy is not your usual pitbull, heck, she's not even your usual pitbull. This is one special dog and she's got a real chance to let people know just how wonderful pitbulls can really be!
Won't you give her a paw in support??
By this time you're probably tired of constant commercials and signs looking for your vote next month. But there's one girl who hopes you'll elect her to one big job. Her name is Ruby and she's a five-year-old pit bull.

Pat Bettendorf rescued Ruby five years ago. She was inducted into the Minnesota Animal Hall of Fame, worked with him at a radio station, volunteered as a therapy dog in nursing homes and even walked the red carpet before performing in a play.

"This is not atypical of her behavior. She's very typical of a true well-raised pit bull, " Bettendorf said.

Ruby could soon add "SpokesDog" to that resume. For the first time in its 100 year history Milk-Bone is picking a " SpokesDog". Tens of thousands of pictures entered the contest, and only 100 are finalists.

"I just never thought it would happen, I just never thought it, and, of course, Ruby, she's cool through it all," Bettendorf said.

Stops around the country and $100,000 come with the title, but before she makes it that far, like any good politician, the pooch is still perfecting her pitch.

"We're running a clean campaign. We're not going to besmirch anybody but, dang, she's awful cute," Bettendorf said.

The last day to vote is Nov. 18. You can vote for Ruby online at Mike-Bone's Web site. (WCCO)
So c'mon, give Ruby your vote! Show people that pitbulls are more than just what the media BS and hype is giving them. She is a true Ambassador of her Breed.
For all you dog and bully breed lover, help Rudy out and share this with friends and family, let get her the top spot. She's been giving and giving, let's give her a paw up!
If you want to read even more about Ruby, my mom did a story on her about a year ago; "Ruby; Certified Therapy Dog, Dog Actor… and Pitbull".  She really is a wonderful dog!!
Email This Post
Like this post? Subscribe to my RSS feed and get loads more!