Siberian Tiger Cub Gets Surrogate Mom; Dog – VIDEO
Friday, June 20th, 2008 at 7:37 am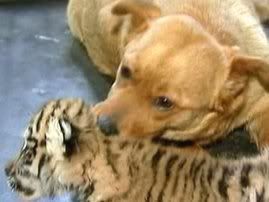 May, the first Siberian tiger cub to be born in the Russia's Omsk region in 20 years was rejected by her mother so now she has a new family and mother. A female dog named Juchka, who had just had puppies, was brought to the village zoo to look after May and the little cub has taken well to her new family.
She loves to play with the puppies and enjoys being nuzzled over by Juchka. The little cat is already showing a few dog-like behaviors including growling at other cats. She's also is being fed goats milk mixed with cream to make up for tiger's milk, which has five to six times more fat.
May will outgrow her surrogate mom and family in about three weeks but by then she will be doing just fine.
Watch May playing with her surrogate family.
Siberian Tiger mothered by dog
Email This Post
Like this post? Subscribe to my RSS feed and get loads more!