The Official "Vick" Dog Chew Toy
Monday, August 6th, 2007 at 7:36 am
Now this is 'priceless'!!! Personally I want to buy a case of them and pass them out to all my friends who have 'stuffie' killing pooches and take pictures of the annilihation!!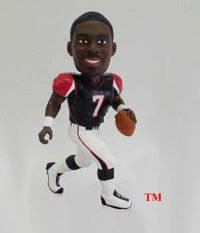 Let your dog begin chewing today!
The Official Vick Dog Chew Toy
Is it different you ask? You bet it is! The Vick Dog Chew Toy is made of state of the art "dog" material. The Vick Toy Doll is so strong and flexible, it will challenge even the most aggressive breeds. Especially Mike's Favorite Breed, The Pit Bull.
Unlike Vick, our manufacturer is so sure of its durability they guarantee it against the most aggressive dog destruction. It Bends. It Bounces. It Flies. It Floats. And best of all, it lasts through the whole season and more!
Jacksonville, Fl. Aug. 3rd — As the Michael Vick dog fighting scandal continues to unfold we find ourselves trying to figure out why a multi-million dollar NFL superstar would put himself in this type of position. That question can not be answered as of yet and may or may not ever be answered. After authorities raided a house owned by Vick on April 25 and found 66 dogs and a pit usually used in dog fights, Vick has finally been indicted by a Federal Grand Jury and will face trial soon.
While most of us have turned a blind eye to this underground world of dogfighting, Michael Vick has helped to blow the doors wide open on this problem. There are now more people responding to the horrible situation that many of these animals have been subjected to.
Now a new type of retribution has been created to give every dog a little pay-back. The Vick Dog Chew Toy will be available for delivery on August 7th and will hopefully help open the eyes of many others. This has been created to help the Humane Society shed some light on this horrendous sport of dogfighting. Each person now has the opportunity to buy a dog chew toy that will help other animals live a better life than those poor dogs that were found on April 25th.
The most rewarding part of The Vick Dog Chew Toy is that a portion of the proceeds are being donated to the Jacksonville Humane Society to help spread awareness of this terrible phenomenon.
Individual orders will start being filled on August 7th with the hopes of providing bulk delivery very soon after. The release date for bulk orders has not yet been determined.
Get Yours Today – The Official "Vick" Dog Chew Toy!
Email This Post
Like this post? Subscribe to my RSS feed and get loads more!